Jessica Simpson's Baby Shower Photos Are Incredibly Dreamy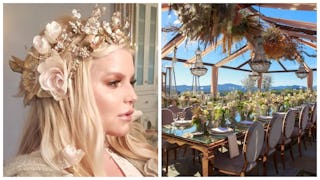 Image via Facebook/Jessica Simpson
Jessica Simpson might have hinted at her baby girl's adorable name, too
Jessica Simpson is pregnant with baby number three, and she celebrated her baby girl's impending arrival by throwing the most adorable, ethereal baby shower in the history of baby showers.
She also might have given a hint to the baby's name, but titling the event "Birdie's Nest." Are you dying of cute yet? Because once you see these photos, you will be.
Flower power seemed to be the theme of the nest, so to speak. Flower crowns and gorgeous, dreamy centerpieces were in no short supply. The mama-to-be shared photos of her shower on Facebook, and basically, she looked like a literal wood nymph and we mean that in the highest form of compliments.
The decor itself complemented the hostess very nicely, and was extremely on-theme.
And also extremely idyllic in every sense of the word.
The last baby shower I attended was in a church basement and while the stuffed shells were, to be fair, delicious — this is a baby shower literally anyone would jump at the chance to attend.
The centerpieces look like something out of an adorably illustrated children's book, do they not? And check out the menu card.
"Stuff Your Beaks" — see? Dying of cute.
And since baby showers are predominantly attended by the fairer sex, it makes sense that Simpson's eldest daughter, Maxi Drew, and her mom, sister, and niece were all in attendance (and looking stunning).
Okay, that photo is giving me some serious Newlyweds/The Ashlee Simpson Show nostalgia in the best way.
But seriously, is there anything sweeter than this mother/daughter photo?
Just a few days before her shower, Simpson crowdsourced fellow mothers of Instagram for tips to reduce swelling in her poor, swollen, pregnancy feet. She knew she was going to be on her feet for this huge event, and, well, they were in no condition to support her last week.
Luckily, after a serious cupping sesh, she posted a photo of her "#skankles" with pride:
As someone who experienced the exact same scenario, I can say I'm 99% sure after her shower her piggies were right back to Swollen City. Lol. But at least they were looking and feeling better so she could enjoy the beautiful day for her beautiful baby-to-be.
This article was originally published on