Jessica Simpson Continues To Keep It Real AF With Postpartum 'Workout'
by Cassandra Stone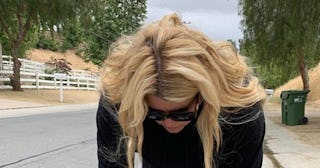 Instagram/Jessica Simpson
Can Jessica Simpson just be our new mom BFF already?
Jessica Simpson was one of the most delightful Instagram follows during her third pregnancy, and she's keeping things entertaining even amid the craziness of postpartum life. In her latest Instagram post, she shows us what it looks like when a mother of three who recently endured a C-section to deliver her nearly 11-pound baby tries to work out.
Or at the very least, stretch outside while wearing athleisure. "Just stretching it out in my rubber corset. The joy of postpartum."
LOL. How can you not love her? Medical grade corsets are no joke, especially when you're trying to keep up with your regular life, other children, and hope your incision heals properly at the same time.
Simpson, who is still recovering from the delivery of daughter Birdie Mae seven weeks ago, has never shied away from the realities of pregnancy or motherhood. And even though she is insanely beautiful and famous and richer than most of us by a longshot, she is just so damn relatable. This photo is what I look like trying to do absolutely anything even remotely athletic, and I didn't just endure major abdominal surgery.
Pregnancy doesn't necessarily care if you're beautiful, famous, or rich. Pregnancy makes you its bitch.
While some celebrity moms are like "I've only gained 3.4 pounds — and it's all in my boobs," Simpson opted to show us the less glamorous side of carrying a child. Like the time she broke a toilet seat, because #PreggoProblems.
And OMG, who could forget when her poor feet were swollen to quadruple their size.
Full disclosure: I am six months pregnant with my second child and if this summer pregnancy winds up anything like my first, I'm going to be waddling around on inflated rubber gloves for feet until two weeks postpartum. And so many of us can relate! That's why Simpson is awesome.
But her pregnancy of course had its glamorous moments too, because sometimes the universe smiles down upon us and grants them to us.
And honestly? The swollen feet, the broken toilet seat, the miserable sleeping arrangements, and the stretched-to-the-max belly are all worth it in the end. Because OMG, LOOK AT BABY BIRDIE.
Yep. That's why we do what we do. God bless Jessica Simpson for continuing to keep it real, though.
This article was originally published on