Jessica Simpson's Totally Shame-Free Pregnancy Weight Post Is Refreshing To See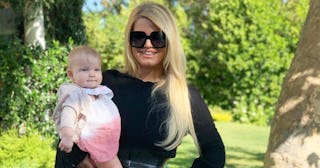 Jessica Simpson/Instagram
Jessica Simpson shares her pregnancy weight and journey with fans on Instagram
In Hollywood, it often feels as if celebrity moms gain like, one pound during their pregnancy, tell glossy magazines about how they did yoga up until they gave birth and how lovely and wonderful it all was, and then behind the veil of nutritionists and personal trainers, quietly drop whatever weight they gained during the pregnancy and act like nothing happened. This is great for those women, but it reinforces damaging ideas about what pregnant women's bodies should look like, it enforces frustrating social ideals that women have to "bounce back" after baby, and it suggests that women who do work to shed post-baby weight should do so miraculously.
Jessica Simpson is not one of those celebs.
The singer turned mogul has been incredibly transparent and vulnerable during her entire pregnancy and just took to Instagram to share a postpartum photo in a cute black dress while opening up about her journey to "feel like myself again."
https://www.instagram.com/p/B2zTMbUA0YO/
"6 months. 100 pounds down (Yes, I tipped the scales at 240)," Simpson shared on Instagram. "My first trip away from #BIRDIEMAE and emotional for many reasons, but so proud to feel like myself again. Even when it felt impossible, I chose to work harder."
As a culture, women have been told to be ashamed of the numbers on the scale, so we love how cool Simpson is about sharing her pregnancy weight. There are very few instances of public figures and celebrities publicly sharing their weight, and to be honest, we wish more famous women like Simpson did, because it helps erase the shame some women associate with pregnancy weight gain and makes more regular women, like us, feel seen.
This is the kind of breath-of-fresh-air transparency that we've come to associate with Simpson. Whether she's celebrating the joys of finally being able to bend over postpartum, calling her pregnancy a "Jess-tation," or keeping us informed of her swollen ankle journey — we love this real queen.
Never ever did we think we would be celebrating a famous woman "getting her ankles back" but god bless Simpson for bringing it into our lives.