Jessica Simpson's Swollen Feet Pic Will Make Any Mom Sympathy-Cringe
by Valerie Williams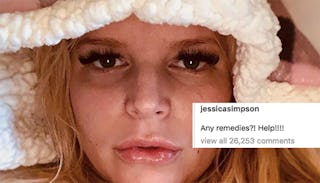 Image via Instagram/Jessica Simpson
Jessica Simpson asks Instagram for tips on getting some relief from her swollen pregnancy feet
The end of pregnancy (and, let's be real, the beginning and middle) can be pretty rough. OK, not going to mince words here — it can be totally effing miserable. Case in point, the photo Jessica Simpson just shared of her extremely swollen pregnancy feet.
"Any remedies?! Help!!!!" she wrote alongside a photo of her feet that made me cringe out loud.
This poor woman.
Her followers immediately chimed in with advice to hydrate, hydrate, hydrate — and elevate. They're totally in line with what the American Pregnancy Association recommends for swollen feet relief along with reducing sodium intake, wearing comfortable shoes, and avoiding being outside if it's hot. Some followers did express concern that the third-time mom should consult her doctor, because while swelling can be a very normal pregnancy thing, it can also be a sign of trouble.
That's because while some amount of pregnancy edema is normal, it can also be a sign of preeclampsia, a pregnancy condition that can be dangerous if left untreated, so definitely consult your doctor about any swelling that concerns you before crowd-sourcing for help on the internet.
Based on Simpson's recent Instagram posts, it looks like she's about had it with being pregnant — and not a single mom would blame her.
The couple told the world about their impending third baby (girl!) back in September in an adorable announcement featuring six-year-old daughter Maxwell and five-year-old son Ace.
While no due date has been announced, judging by how "over it" Simpson appears to be, we hope it's coming up quickly.
Swollen feet are simply awful and add that on to feeling overall pregnancy sore and miserable? Simpson has every ounce of our sympathy and hope that she feels relief ASAP.
This article was originally published on