Jessica Simpson Threw Her Son The Coolest Moana Birthday Bash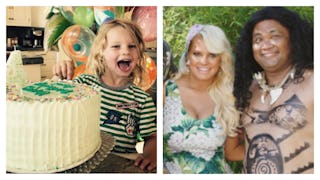 We think even Moana herself would be impressed
Jessica Simpson knows how to throw a party. The fashion designer and mother of two threw her son, Ace Knute, a Moana-themed fourth birthday bash on Sunday (though his official birthday was on Friday, June 30) and she definitely pulled out all the stops to make this a birthday to remember. Simpson and her husband, Eric Johnson, included a bounce house, Moana-themed fare, and actors who were the spitting image of the Moana and Maui characters from the Disney animated movie.
Of course, some of her followers couldn't bite their tongues because they have an opinion, dammit, and everyone needs to hear it.
Simpson transformed the backyard of her California home into the Isle of Te Fiti, the animated island featured in the film, and the family dressed in island-inspired clothes. Simpson shared photos from the shindig with her 3.8 million fans on Instagram, including a gorgeous family shot with the characters and their daughter Maxwell, five, who has perfected hamming it up for the camera.
https://www.instagram.com/p/BWGYMKXA-yW/?taken-by=jessicasimpson
Other photos show his friends getting in on the fun with body art, posing for pictures with the characters.
When Ace's friends left the party, they were given personalized toy sacks stuffed with even more fun to take home. "What a way for Ace to end his birthday! Thank you @my1styears for helping him send off all of his friends with a personalized surprise," Simpson wrote next to a picture of Ace posed on the bags.
Of course, some of her followers couldn't help but make comments about the perceived excess of the bash. "Happy birthday to your little boy but…. how excessive is this! Hopefully there is an abundance of teaching lessons about giving when no one is watching," one commenter wrote. Many others chimed in that Simpson should've been giving the goody bags away to kids in need. "Would have loved to see these bags go to kids in need. Would have been a good lesson for the kiddos too!" Really? She needs to feel bad for giving out gift bags at her son's party? Simpson is no stranger to random strangers commenting on her life and her children. A few months ago she was shamed for posting a picture of her daughter in a bathing suit because some people just can't stand when other people are happy.
Here's the thing, it's not your party or your child. If a person would like to give to charity in lieu of gift bags or even gifts for their children, then they should by all means do so. If you wouldn't post a picture of your child in a swim suit, then don't. Simpson is doing what she wants for her children because she is their mother. End of story.
https://www.instagram.com/p/BV_FUPWAsXy/?taken-by=jessicasimpson
The look on Ace's face certainly says it all. "May wish #4 come true my beautiful baby boy," she wrote beside her beaming son and his Moana cake.
It looked like a very happy birthday, indeed.
This article was originally published on