'Harry Potter' Star Jessie Cave's Infant Hospitalized With COVID-19
by Christina Marfice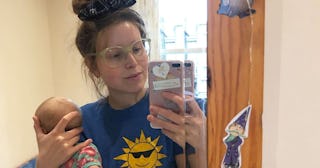 Jessie Cave/Instagram
"Once again I'm in awe of nurses and doctors," Jessie Cave wrote as her newborn son is treated for COVID-19
Despite misconceptions that COVID-19 only affects elderly people or people with underlying medical conditions, the truth is that it's a dangerous, deadly virus that can make anyone seriously ill. And while certain politicians (like, say, Trump) have spread information saying that children are immune or less affected by this virus, that is simply not true. Children can get sick with COVID-19. They can get seriously ill. Case in point: Harry Potter actress Jessie Cave's newborn son, who is currently hospitalized while he battles a coronavirus infection.
Cave, who played Lavender Brown in the Harry Potter movies, shared the news on her social media.
"I watched the news about lockdown from an isolated room in hospital. Poor baby is covid positive," she wrote. "He's okay and doing well but they are being vigilant and cautious, thankfully."
Cave's son is just three months old. In her post, she seemed to indicate that he had been infected with a newer, mutated strain of the virus that has been raising alarm around the world. Scientists say it may spread faster and more easily, and may be more easily spread by children, than other known variants — but it doesn't appear to be more severe or make people more sick.
"This strain is super powerful and contagious so I do hope that people take extra care in the coming weeks," Cave wrote.
In another post, she shared how she was brightening up her baby's hospital room during what must be an incredibly scary time. A photo she posted showed him in his hospital crib with an iPad propped up on stuffed animals, and colorful tropical fish swimming across the screen. In the caption, Cave revealed that they were celebrating him reaching 11 weeks old.
"If you can't go to the aquarium bring the aquarium to you," she wrote.
Cave also shared her appreciation for the NHS doctors and staff who have been caring for her son, including her brother and father who are both doctors.
"Once again I'm in awe of nurses and doctors," she wrote. "Please wish baby a speedy recovery… Love and best wishes to everyone."
You don't have to ask us twice. We're sending all our best wishes and healing thoughts to Cave's son.