Singer Shares Postpartum Photo As A Reminder That The Belly Doesn't Disappear After Birth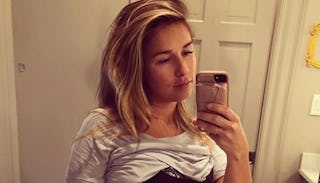 Image via Instagram/JessieJames Decker
Decker shared the photo as a reminder to women not to stress about their postpartum bodies
Most women struggle with body image after pregnancy and giving birth. It can be tough in the weeks and months postpartum to feel comfortable in our own skin as our bodies heal and try to find a new normal after childbirth. Singer and songwriter Jessie James Decker shared a very candid picture of herself on Instagram this week, reminding moms to ditch the worry and concentrate on what's most important.
"Keepin it real! 3 weeks post and I'm still very swollen. The 3rd has been by far the hardest recovery, but I'm feeling stronger every day," Decker wrote. The mom of three, who recently welcomed baby Forrest with husband and NFL player, Eric Decker, are also parents to two-year-old son Eric "Bubby" Thomas Jr. and four-year-old daughter Vivianne "Vivi" Rose.
"I've updated you all throughout my entire pregnancy and how much my tummy/baby were growing monthly so I felt like I should share where I'm at post baby," she continued. "It sure is incredible what the body can do and I'm so grateful!"
So much focus is put on women and their bodies, especially after we have kids. A lot of us feel like getting back to our pre-baby bodies as quickly as possible is as important as adjusting to life with a new human to care for. And it can be exhausting. Decker's message is one so many of us need to hear; relax and focus on what's really important.
The mom of three has always been open, sharing moments of her life and keeping a refreshing outlook on parenting. Sometimes, it's a Halloween costume gone wrong — "He looks to me like a run away on Venice beach and Viv looks like she's the chick from the ring. But it's all good," she wrote alongside a photo of her husband as Maui, and their daughter as Moana.
Other times, it's celebrating her birthday with a "baby on the boob."
Whatever the situation, sometimes a little perspective can make all the difference.
RELATED: 38 Best 30th Birthday Gifts That Will Make Her Feel Like The Queen She Is
"I know i say this after each baby but remember what our bodies just when through for 9 months and be proud, don't stress over post baby body, just enjoy your new baby because these are beautiful moments and memories you will cherish forever," she wrote.
Amen to that.
This article was originally published on