Dr. Jill Biden Expected To Take On Role In Immigrant Family Reunification
by Christina Marfice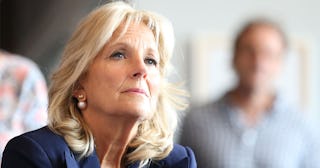 Nancy Lane/MediaNews Group/Boston Herald/Getty
Dr. Jill Biden is going right to work to start undoing what might be the cruelest legacy of the Trump administration: Family separation at the U.S. border
The Biden administration is hard at work undoing as many Trump era policies as it can. But one of its biggest challenges is going to be reversing the damage from what might have been the cruelest one of them all: Trump's no-tolerance immigration rules that separated children from their families at the southern border. The new president has created a task force to work on reuniting those families, and we now know that the task force will receive input and guidance from Dr. Jill Biden herself.
A White House official said Biden has felt very strongly about immigration issues, especially since taking a trip to a refugee camp across the border from Brownsville, Texas — in Matamoros, Mexico — in December.
"It's not who we are as Americans," she said after spending two hours at the camp. "We are a welcoming nation, but that's not the message that we're sending at the border. We're saying, 'Stop. Don't come in.'"
The task force on reuniting families will be lead by top officials from the Department of Homeland Security, Department of Health and Human Services, and the State Department. Jill Biden's chief of staff Ambassador Julissa Reynoso, who has a background as a lawyer, is also expected to be involved. Joe Biden is expected to announce the members soon — possibly as early as this week. Dr. Biden's involvement will help bring visibility to the issue, which, even after the Trump administration ended its family separation policy amid international backlash in 2018, remains a crisis. Lawyers are still unable to reach the parents of 611 children who were separated at the border between 2017 and 2018, according to the latest court filing on the issue.
Dr. Biden's personal involvement and desire to help is a stark contrast to how former first lady Melania Trump handled her husband's breathtakingly inhumane approach to family separation. She infamously visited an immigration detention facility for children in 2018 wearing a jacket that was emblazoned with, "I really don't care. Do U?" across the back. While the former First Lady insisted the jacket had nothing to do with the situation, it sent a message to the world that she was disengaged with the issue, even as the Trump administration was drawing criticism from all over the world.
Even though the family separation policy hasn't been in action since 2018, Biden's Justice Department officially rescinded it on Tuesday. Biden also stopped construction on Trump's infamous border wall as part of his slew of executive orders during his first week in office.
"Like every nation, the United States has a right and a duty to secure its borders and protect its people against threats. But building a massive wall that spans the entire southern border is not a serious policy solution," the order reads, in part. "My Administration is committed to ensuring that the United States has a comprehensive and humane immigration system that operates consistently with our Nation's values."