People Compare Jill Biden's 'Love' Jacket To Melania's 'I Don't Care'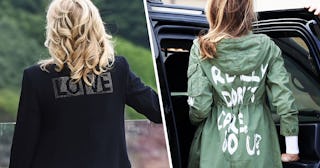 Toby Melville/Chip Somodevilla/Getty
Jill Biden wears "LOVE" jacket ahead of the G7 summit and the world can't not compare it to Melania Trump
Remember when Melania Trump wore a jacket that said, "I Really Don't Care, Do U?" while visiting immigrant children being detained at the U.S.-Mexico border? Who could forget, right? It was terrible and though, unsurprising for the Trumps, it sent shockwaves through the 'net. Well if First-Ladies-wearing-jackets-that-contain-phrases were a competition, it's clear that Jill Biden just won with her inclusive message of love. The current First Lady was in England with her husband President Joe Biden to meet with Britain's Prime Minister Boris Johnson, where she was spotted wearing a jacket with the phrase "LOVE" written on the back.
Jill touched down in Carbis Bay, in Cornwall, England ahead of the G7 summit where she and Joe are set to join world leaders from England, Japan, Germany, France, Italy, and Canada and the message she's bringing with her, as she represents the U.S., is clear: it's all love.
When asked about the jacket, Jill told CSPAN, "Oh, the love? I think that we're bringing love from America. This is a global conference and we're trying to bring unity across the globe and I think that's important right now…especially after this last year."
The look is in stark contrast to the one former First Lady Melania Trump wore, which sent an entirely different message.
While boarding a plane en route to visit immigrant children being detained at the U.S.-Mexico border, Melania's jacket back literally said, "I Really Don't Care, Do U?" Her team brushed it off as meaningless, saying it was just a jacket.
Terrible at worst, tone-deaf at best (assuming we give her the benefit of the doubt, and honestly, do we?), Melania's cruel message was — rightfully — lambasted by the internet.
I have no idea if Jill's jacket message is "in response" to Melania's 2018 look, but the overall message received is that we finally have a kind First Lady in the White House, and one who is actually interested in supporting the president and rebuilding relationships with foreign powers.
I'd like to think Dr. Jill Biden is above dragging Melania, but that doesn't mean the internet can't do it for her!
"Melania's 'I Really Don't Care Do U?' jacket (at the Mexican border no less) vs. Dr. Jill Biden's Love jacket (in Great Britain today). Finally a First Lady with class again," wrote one Twitter user.
"I am so here for first lady jacket wars," wrote another.
Now we wait to see how the right spins this. $50 to the first Republican who can trash this jacket, I'll wait.