Jill Biden & Kate Middleton Team Up To Promote Early Education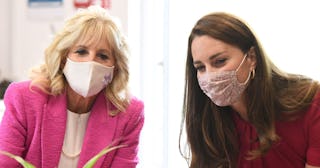 DANIEL LEAL-OLIVAS/Getty
The pair chatted with students and teachers during their visit
First lady Jill Biden met Catherine, the Duchess of Cambridge, for the first time this week in Cornwall, England, where the pair toured a school and met with some special kids.
The Bidens came to the UK early to meet with leaders and dignitaries before President Biden is set to attend the G7 Summit, which begins Friday. It's the Bidens first trip abroad since his inauguration and gave a chance for Jill Biden, a lifelong educator, to talk about her passion for early education. The first lady and the duchess toured Conor Downs Academy, a school for four-and-five-year-old students. The academy is a "trauma-informed school," meaning it works with students who have experienced trauma at some point in their very short lives.
"The importance of providing adequate support for parents and children alike during early childhood, and the positive impact that this can have across society, is something which Her Royal Highness and The First Lady have both gained an understanding of through their respective work," Kensington Palace said in a press release.
Inside, they chatted with students who were reading the book, "Greta and the Giant," which Biden said she was familiar with. The pair then toured the outside classroom, meeting the school's five bunnies, which the students care for during the day. Biden carried a bowl of carrots to feed the bunnies as they chatted with school staff.
Biden and the Duchess also participated in a roundtable discussion about early childhood education. "It's very important to the foundation," the first lady said. "As a teacher at the upper levels, if they don't have a good foundation, they fall so far behind. This is amazing to see how far advanced they are."
Kate also answered a question about her newborn niece Lilibet, the daughter of Prince Harry and Meghan, Duchess of Sussex, who was born one week ago. "I wish her all the very best. I can't wait to meet her because we haven't yet, met her yet, so hopefully, that will be soon," Kate said.
After the roundtable discussion, the first lady jokingly said her visit was entirely too short. "I have a million questions written down!" she said to Kate. "I'll have to give you a call!"
The president and the first lady will meet with Queen Elizabeth at Windsor Castle on Sunday before Biden leaves to head back to the US for work. It will be the Queen's first major meeting with a world leader since the death of her husband, Prince Philip, who died in April.