Dr. Jill Biden Urges Masks So Your Dogs Don't Lose Their Parents
by Kristine Cannon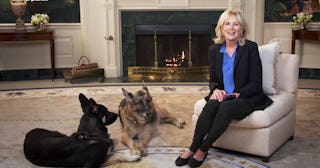 Discovery Press/Youtube
First dogs Champ and Major co-star in an adorable mask PSA alongside mom, Dr. Jill Biden
In what might be our favorite PSA, Dr. Jill Biden and her two dogs, Champ and Major, cozied up on camera to urge everyone — including pet parents — to continue to wear masks. The PSA is scheduled to air during the 2021 Puppy Bowl this weekend, but luckily, the adorable (and important!) PSA has been published ahead of time to really drive home the mask-wearing message amid the ongoing COVID-19 pandemic.
"For a lot of us during this pandemic, our pets have been such a source of joy and comfort and maybe a bark or two on a video conference," Dr. Biden says, likely referring to the barks reporters overheard as they left a press conference in the Oval Office last week.
"The unconditional love from a dog is one of the most beautiful things on Earth and we owe it to them to keep ourselves healthy, so please keep wearing your masks, even when you're out walking your dog," Dr. Biden continues. "Right, guys?"
"Woof."
According to USA Today, Discovery reached out to the White House for the PSA.
"We reached out since Puppy Bowl is a celebration of shelter dogs and we now have the first shelter dog in the White House," Laurie Goldberg, a spokeswoman for Discovery, told the outlet.
Leading up to starring in the PSA, first dogs Champ and Major were featured in their very own children's book appropriately titled Champ and Major: First Dogs. The concept is cute, too: Champ, who joined the Biden family in 2008, shows 3-year-old Major around the White House.
And the release of Champ and Major follows Major's "indoguration," a virtual event held Jan. 17 that raised more than $200,000 for the Delaware Humane Association (DHA), the shelter from which the Bidens adopted Major.
"2020 was a tough year for all of us financially — both for animal shelters and pet owners alike. Here at DHA our mission is to make 'friends for life' by connecting people with animals, and by building strong relationships to better serve our community. With Major heading to the White House, it's our sincere hope that we can continue to connect more homeless animals with families than ever before. If a shelter dog is good enough for the White House, they're good enough for your house!" DHA's executive director, Patrick J. Carroll, said in a statement.
According to Goldberg, the PSA is scheduled to air on other Discovery channels, too.
The Puppy Bowl XVII, which is scheduled to air on Animal Planet and stream on Discovery+ on Sunday at 2 p.m. EST/11 a.m. PST, is extra-special this year: The three-hour special airing ahead of the Super Bowl is hosted by none other than everyone's favorite duo, Martha Stewart and Snoop Dogg.
For the annual puppy showdown, Stewart and Snoop will throw a tailgate party that features activities such as making the perfect party snacks and the best Puppy Bowl-themed cocktails. They'll also root on the pups representing Annenberg Pet Space, Paw Works and SPCA LA.
Stewart and Snoop are far from the only celebs taking part in the Puppy Bowl this year. Kristen Bell, Valerie Bertinelli, and more will also make special appearances as 70 adoptable puppy players from 22 shelters and rescues from non Northeastern states go "paw to paw to win the CHEWY 'Lombarky' trophy."
"Puppy Bowl celebrates adoptable pups in all their cuteness and showcases the incredible shelters and rescues, as well as their staffers, who dedicate their lives to helping animals find their loving homes," a Puppy Bowl press release states.