Dr. Jill Biden Is Teaching Zoom Classes From The White House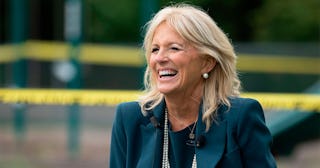 JIM WATSON/AFP/Getty
"That's my passion, that's my life," Dr. Jill Biden said about continuing to teach from the White House
The new President has been awfully busy since he was inaugurated and moved into the White House. But he's not the only one in the household who is hard at work, despite just having moved in. The First Lady, Dr. Jill Biden, a lifelong educator, is still teaching her classes at Northern Virginia Community College. Now, she's just doing it via Zoom from the White House.
"I taught all eight years that I was second lady," Dr. Biden said in her first joint interview with Joe. "That's my passion, that's my life."
This makes Dr. Biden (or Dr. B, as her students call her) the first presidential spouse in modern history to keep working their day job after moving to Washington, D.C. We're not exactly surprised, considering the passion she has for teaching. Joe actually credits that with giving her the "energy" she needs to keep up with her full-time job, plus her new duties as First Lady.
"The students she teaches, these are foreign students or people who weren't the people who graduated from high school, but they're remaking their lives," he said. "It's an inspiration. It's energy for Jill, but it's a lot of work."
In their joint interview, Dr. Biden wasn't shy about just how much work it is.
"It's been busy. But it's been so many different things, so many different areas, and Joe's been working hard on foreign policy and of course his new [COVID relief] plan," she said. "And so we have a lot to do — but we have a lot ahead of us and we feel good about it. We feel like people have hope that we're moving the country forward."
One thing about the country that needs a lot of changes is our education system, and having a passionate, lifelong educator sharing the White House with the president can only help. It's still very early in this new administration, but all signs point to Dr. Biden being a real force for positive change and a better future, especially for kids.
Now we just need to know how we can get in on some of these Zoom classes she's teaching. Forget all those green screen Zoom backgrounds — the only background that matters is the actual White House when your teacher casually lives there.