Jill Duggar's Marriage Advice Includes Not Masturbating Or Answering The Phone
by Cassandra Stone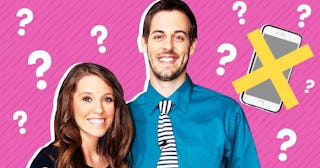 Scary Mommy, D Dipasupil/Getty and Benjaminrobyn Jespersen/Unsplash
Jill Duggar thinks we should be having sex 4 times per week "to start"
Married women everywhere, you might want to buckle up before reading the marriage and sex advice Jill Duggar recently shared on her family blog. While the Duggar family is notorious for their outdated (and detrimental) views on modesty, chastity, and anti-feminism — they have also always been pretty vocal about their thoughts on sex and marriage. Jill is no exception.
Did you know it's imperative to have sex often so we don't "let the fire die" in our marriages? Which, sure, intimacy of any kind of very important. But Jill thinks we need to be doing it "3-4 times a week" — to start.
https://www.instagram.com/p/Bx2Knn9g8-B/
Listen, everyone's different and maybe that works really well for some people. Though for many of us tired, overworked, over-scheduled moms, four times per week is… probably not happening even if we want it to. Which is why masturbation is such a healthy, time-friendly alternative for everyone. Oh, wait, not everyone. Because Jill doesn't think women should be pleasuring themselves solo.
"Guard against fulfilling sexual desires alone," she writes. "Be open with your spouse about your desires and change things up to keep it exciting!"
Duggar has been married to her transphobic husband, Derrick Dillard, for five years. The couple have two sons, Israel and Samuel, and apparently one bangin' sex life. Well, at least Derrick probably does. "Give him your undivided attention," she continues. "And if it's hard, pray for grace to be able to give undivided attention to him."
Girl, what about YOU?! You're the one home with the little ones all day. It's important he's paying attention to you, too, if for no other reason than you need adult interaction and recognition for all you do, too. But what do I know? I was engaging in far more than just scandalous side-hugs long before Jill.
https://www.instagram.com/p/BvA22B7gbKh/
Oh, and if you thought you were allowed on the phone while your husband is in residence, think again, ladies: "Don't answer the phone during your first little bit together in the evening, and tell people to call you later if your hubby just got there," she says 100 percent earnestly. "It's good for others and your hubby to hear you say something like, 'I'm sorry, I'll have to let you go now, my hubby just got home!' It lets them know your priorities and can be encouraging to others."
Other gems from her blog post include:
Serving your husband and meeting his needs (he needs to feel wanted — to hell with us!)
Looking nice for hubby! (she actively suggests not wearing "frumpy PJs")
Not acting like his "mother" (no nagging, even if he's actively degrading a transgender teen on a public platform)
Be open about all money and spending habits (no sneaking Amazon Prime deliveries under his nose, because Jesus or something)
If this sort of "husband first" mentality sounds familiar, it's because it's the Duggar way of thinking. Back in 2014, Michelle Duggar gave the following advice during an appearance on the Today show:
"In your marriage, there will be times you're going to be very exhausted. Your hubby comes home after a hard day's work, you get the baby to bed, and he is going to be looking forward to that time with you. Be available. Anyone can fix him lunch, but only one person can meet that physical need of love that he has, and you always need to be available when he calls."
While one could easily say "to each their own" in a scenario like this, it's important to remember the Duggars have a huge platform (even though 19 Kids and Counting was promptly canceled after everyone found out Josh sexually molested his sisters and cheated on his wife), and they know how to use it — complete with a side of guilt and shame for wives. You do you, Jill. Just know that no one else has to do it that way.
This article was originally published on