Jillian Harris Standing In Her Postpartum Mesh Underwear Is All of Us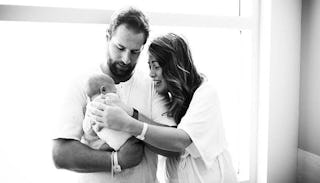 Jillian Harris opens up about her son's birth story
Former star of The Bachelorette and current host of the show Love It Or List It: Vancouver, Jillian Harris recently shared the nitty gritty details of her son's birth with the world. In a blog post, Harris got real with us – and we absolutely love her for it. But even better than Harris' words, perhaps, are the photos she shared that perfectly sum up the postpartum experience. Two words: mesh underwear.
Harris began her blog post by saying, "Our birth story isn't exactly how we would have imagined it." We are instantly nodding our heads in agreement, because if there is one thing you can count on when having a baby, it's that very little will go according to plan.
Harris went on to explain that, although her due date was August 21, her son Leo decided to make a somewhat early arrival three weeks ahead of scheduled — while Harris was in the midst of filming. After experiencing what she thought was a "slow leak," Harris and her longtime boyfriend, Justin Pasutto, went to the hospital only to be told that she wasn't actually in labor. So they went home and carried on with business as usual. Which is something that many of us can relate to, except that for Harris "business as usual" meant a 13-hour day filming the pilot for her new show.
"I was groggy and cranky and emotional," Harris wrote about that day, but she decided to go for a swim in the lake with her dog. "I remember floating in the lake, Nacho swimming towards me and feeling so content and warm. "
After her swim that night, Harris said, "I had decided that my vagina was some monstrous vacuum." Turns out, her water had broke. Armed with her overnight bag, and a camera crew, of course — Harris and Pasutto returned to the hospital. After a few hours enjoying the calm before the storm, Harris said that "shit started to get gnarly."
Several hours later, after "an hour of pushing, some major ripping, [and] an episiotomy," little Leo was born on August 5.
But even better than reading Harris' oh-so-relatable birth story is the postpartum photo Harris shared in her blog post. Wearing only mesh underwear, Harris stands next to Pasutto who's holding Leo. The photo is the epitome of the postpartum experience, not only because you can see love, awe and little bit of fear in the parents' eyes, but also because of the underwear. Those utilitarian and unattractive, yet amazingly comfortable, mesh underwear are a perfect representation of the postpartum period regardless of the specifics of our birth story. We're super vulnerable and a little awkward, but also strong as hell as we cautiously step into our new role as Mom.
Standing there in her awesome mesh underwear, Harris' birth story is all of ours — minus the film crew, of course.
This article was originally published on