The Internet Loves Concern-Trolling Pregnant Women
by Ashley Austrew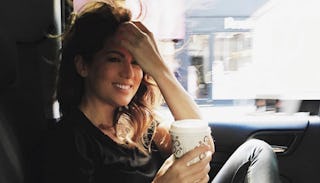 HGTV star Jillian Harris stood up to critics offering her ridiculous and unsolicited pregnancy advice
When you get pregnant, you expect to feel sick, tired, and swollen. You expect to cry at the drop of a hat and coo over tiny, adorable onesies. What you don't expect is the insane amount of unsolicited advice you'll get from strangers. Newly pregnant TV star Jillian Harris didn't expect it either, and that's why she was stunned when she incurred the wrath of the internet over a few simple Instagram photos.
Harris is a former Bachelorette and the current host of HGTV's Love It Or List It. She announced her pregnancy three weeks ago, and since then she's been bombarded with advice and warnings from well-meaning fans. Last week, she shared a photo of herself drinking her morning coffee, as well as another coffee photo later in the day, and she unexpectedly got bashed for everything from her caffeine intake to her clothing choices.
[ia_pregnancy_ad]
"Easy on the coffee," wrote one commenter, while another added, "Hope that's just herbal tea," with a bunch of sad emojis. A few people implored Jillian to please switch to decaf, others told her eating oranges definitely means she's having a girl (eyeroll), and one even got on her case for what she was wearing, writing, "Can't believe you could still wear your Daria Pant when your [sic] pregnant! Those pants are super tight. How uncomfortable would they be when your [sic] pregnant?"
Seriously, people? Take a fucking chill pill.
Harris eventually took to the comments herself and fired back at anyone who thinks she might not have her baby's best interests at heart. In the comments on her second photo, she wrote:
"Ok I doubt this is the last time I'm going to have to address this but here we go! 1. after already getting a ton of unsolicited advice I've realized this is coming from people who care and just want to help, so thank you. 2. I however am no idiot and obviously know all the do's and don'ts of being pregnant and plan to take very good care of myself and baby! 3. In the topic of caffeine, my doctor has actually recommended a cup or two a day… Yes, I get advice from my doctor!!! Lol 4. I love coffee and drink a lot of it, so after my morning jolt I switch to decaf, funny in pictures you can't tell if it's decaf or not!!"
Harris tells People magazine that in the short time since she announced her pregnancy, she's already gotten comments on everything from her eating habits to dyeing her hair. She tries to take it in stride, but as any woman who's ever been pregnant can tell you, it's annoying as hell. Says Harris, "I stopped drinking alcohol, I stopped partying, I don't do Botox anymore … I'm not an idiot. I'm not stupid, I'm a grown adult. I think I know what's right and what's wrong."
It's not difficult to understand Harris' frustration because we've all been there. We've all had nosy people telling us our bump is too big or too small, guessing the sex of our child based on the most random occurrences, commenting on our clothing, or telling us whatever we happen to be eating or drinking might be dangerous.
[ia_pregnancy_ad]
The internet has only made the "unsolicited advice" problem a million times worse, and people might have good intentions, but that doesn't make it any less annoying. Pregnancy might make women sick, bloated, and hormonal, but it doesn't make us stupid. We know our own bodies better than anyone else, and we don't need to know what random people think. If you really want to help a new mom, just zip your lips and tell her she's doing a fantastic job.
This article was originally published on