Jillian Michaels' Advice To Her Son About Bullies: 'Knock That Little $#*! Out!'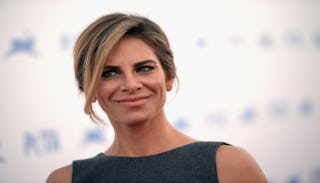 Image via Jason Kempin/GettyImages
Jillian Michaels appeared on Wendy Williams this week where she shared with the audience how she talked to her son about bullying. Her harsh advice might not resonate with everyone, but if you're a parent with a child who's experienced bullying, you'll know exactly where she's coming from.
Bullying is a big topic these days, especially in schools. The conventional wisdom is to encourage kids to talk things out and involve an adult when necessary, but that's not always practical. Or instinctual. Jillian told her son that at times, he may need to take matters into his own hands. She explains her thoughts on the subject in this segment with Wendy Williams:
If you are unable to watch the video, the quote from Michaels regarding bullying is "Like, my son's getting bullied at school. I'm like, you knock that little s*** out! You knock him out! And she's [Heidi] like, 'You can't do that! Talk it out!'" Now, I doubt she phrased it that way to her 3-year-old son, but I get the gist and don't judge her for feeling that way. Michaels' partner is correct, naturally. We're supposed to tell our children to work out their problems by using words and remaining calm. But you know what? Not all situations can be resolved with that kind of solution. Not all bullies will respond to it and sometimes, an adult isn't around to intervene. Teaching a child it's acceptable to defend themselves a little bit is not entirely wrong.
My son was the victim of bullying several times on the bus last year. He was only in kindergarten and while I never told him to go ahead and hit his tormentors, I did say it was ok for him to shove them away and yell for help. On the bus in particular, with the driver focusing on the road, there was no one around to put an immediate stop to it. I don't want my child to be a sitting duck, allowing some little asshole to shove his face into the bus window. I told him to fight back a little and I don't regret it. While I wouldn't advocate outright punching or hitting, I don't see anything wrong with pushing or shoving if that's what it takes to get away until an adult can help him.
Unfortunately, the issue of bullying won't go away any time soon. As long as some children live in homes where they aren't taught that hitting and teasing other kids isn't ok, it will happen. At least now it's out in the open more than ever. When we were growing up, bullying was often seen as a rite of passage for childhood. Something a child must endure rather than have anyone put a stop to. I'm so glad to be a parent in a time where bullying is taken very seriously by the schools so any issues can hopefully be put to rest before they get out of hand. But I'll never apologize for advising my kids to fight back if they have no other choice. I never want them resigned to being a helpless victim.