Jim Acosta And CNN Are Suing Trump And Several Of His Aides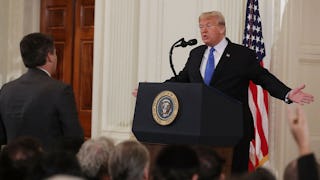 Image via Mark Wilson/Getty Images
CNN and reporter Jim Acosta are fighting back against the White House revoking his press pass
The drama between Donald Trump and CNN reporter Jim Acosta continues. Acosta and CNN have filed a lawsuit against Trump and some of his top aides, seeking to reinstate Acosta's White House press access, days after Trump revoked it amid insults and allegations that Acosta had behaved inappropriately toward a White House staffer during a post-midterms press conference.
Acosta and CNN filed suit in U.S. District Court in Washington, D.C. on Tuesday. The defendants they name include Trump, chief of staff John Kelly, press secretary Sarah Sanders, deputy chief of staff for communications Bill Shine, the director of the Secret Service, and the Secret Service officer who actually confiscated Acosta's press pass last week. Acosta and CNN are alleging the White House's ban on Acosta violates their First and Fifth Amendment rights.
This comes after a heated exchange at a press conference, in which Trump responded to questioning from Acosta by calling him a "rude, terrible person," among other things. At the time of the exchange, Acosta was simply trying to question Trump about the Russia probe, something that was well within his rights as a White House reporter.
None of this is terribly surprising, considering Trump's pattern of being hostile toward the press. He's repeatedly called reporters the "enemy of the American people" and accused them of spreading fake news, when in reality, they're just doing their jobs. Oh, and their jobs are essential to the functioning of democracy, so there's that. Enemy of the American people? Hardly.
As you can see from the video of the exchange, a White House worker tried to physically take the microphone from Acosta when he wouldn't stop trying to get his questions out, even over Trump's barrage of interruptions and insults. The White House has since spread a doctored version of that video, claiming Acosta's press pass was taken because he physically assaulted that White House worker. We won't dignify the White House by posting their version of the video here. Just scroll up and watch CNN's recording if you want to see what really happened. Spoiler alert: There was definitely no assault.
But this is the reality of the time we live in. Trump didn't like a reporter's questions, so he is now trying to stop that reporter from doing his job by banning him from the White House. This is a crystal-clear assault on the freedom of the press and we only hope CNN and Jim Acosta do everything they can to fight it.