Jimmy Fallon & Lin-Manuel Miranda Herald Return Of Broadway With Epic Medley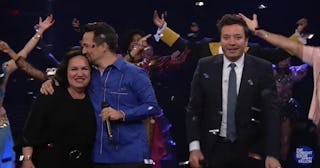 YouTube
Jimmy Fallon, Lin-Manuel Miranda and a bunch of Broadway stars welcome back Broadway with amazing medley set to iconic "Hamilton" tune
Remember last year when COVID-19 hit and everything was getting cancelled? We lost professional sports, the Olympics, major awards shows, movies in actual theaters, travel, and Broadway musicals. When Broadway went dark, it was the first chilling moment for many theater nerds (myself included) when it hit home exactly how serious this virus is.
Lots of sports and events have made their post-COVID return in recent months but since Broadway shows are indoors, theaters haven't been able to reopen just yet. That all changes this September when the lights of Broadway will go back up, and Jimmy Fallon decided to celebrate the happy occasion by performing an epic medley with Lin-Manuel Miranda, featuring a whole list of big Broadway names.
Broadway greats Olga Merediz, Phylicia Rashad, Kristin Chenoweth, Christopher Jackson, Laura Benanti, and Jimmy Smits joined Fallon and Miranda onstage to sing a medley for the ages. If this doesn't get you excited for Broadway's big comeback this September, nothing will TBH.
In their performance, Fallon and Miranda gave nods to several Broadway shows including Dear Evan Hansen, West Side Story, The Book of Mormon, Wicked, Hamilton, and more. "Broadway, oh, Broadway, you're finally coming back," Miranda sings. "I miss drinking wine out of sippy cups and a $20 snack… A night at the theater, my favorite kind of date… I even miss the people who always show up late."
Then, as the other Broadway stars begin to join them, Miranda looks right at the camera singing, "In September for your entertainment, Broadway's back." And that's when I lost my cool and cried for the rest of it. After well over a year, theaters will reopen. Amazing.
As the performers absolutely slay a "Broadway's Back" parody set to Hamilton's iconic "You'll Be Back," Miranda sings, "There is life beyond your friends at Netflix, Hulu, Peacock, Disney+."
There sure is, and we can't wait to get back to it. As more and more folks get the COVID-19 vaccine, more and more "normalcy" will return. Sadly, parts of the country are reporting a vaccine slow-down with President Biden's goal of 70 percent of Americans vaccinated by the 4th of July in peril. Hopefully, the news of a return to Broadway will motivate some hesitant individuals to get the jab so we can (safely) go back to musicals, school, work, travel, and everything else we miss.
If Lin-Manuel Miranda can't convince you, I don't know who can.