Jimmy Kimmel Turns The Pranks On Dads And We Can't Stop Laughing
by Maria Guido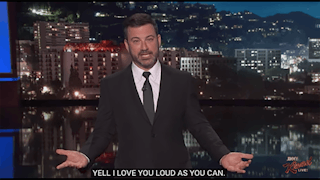 If you want to laugh, watch Jimmy Kimmel's Father's Day prank
Every year, people argue about whether pretending to steal candy from a baby is the best — or worst thing, ever. Jimmy Kimmel's yearly Halloween candy prank is hilariously wrong, and hated by many. But if you find yourself wishing you could laugh at one of his pranks, may we turn your attention to this year's Father's Day prank.
In honor of Father's Day, Kimmel urged viewers to sneak up on their dads and scream, "I LOVE YOU!" (And film it, of course.) The results are so satisfying.
"Every year we issue a Father's Day YouTube Challenge. In years past, we've asked you to spray your dad with a hose, to serve him breakfast in the shower but this year the challenge was simple," Kimmel explains. "Just sneak up on your father and yell 'I love you Dad' as loud as you can. We got hundreds of videos, we went through all of them and whittled it down to the best of the best and with that said, we invite you to feel the love in our 2017 Father's Day YouTube Challenge."
This is too good. And it really does an amazing job of illustrating all kinds of dads, doesn't it?
There's the wholesome dad, who simply says, "Eek. What are you guys doing?" after his kids burst into his room with an air horn. Gotta love him.
Then there's scared, pantsless dad, our personal fave:
Confused, peeing dad — who simply mutters, "Thank you."
This dad is not happy.
This is so much better than the Halloween prank. Sorry, dads.
This article was originally published on