Jimmy Kimmel Brings His Son On His Show To Make Tearful, Important Plea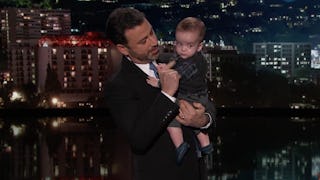 Image via YouTube/Jimmy Kimmel Live
CHIP funding is critical for over 9 million American children
At just three days old, Jimmy Kimmel's son, Billy, underwent emergency surgery after he was born with congenital heart disease. The host of ABC's Jimmy Kimmel Live! has been sharing his son's progress and the critical importance of access to quality, affordable healthcare for all children.
Last night, Kimmel brought little Billy with him to the show just one week after another successful surgery and reiterated the importance about what's at stake for children everywhere.
Kimmel was emotional introducing Billy to viewers and fighting back tears when talking about his recent surgery, joking, "Daddy cries on TV but Billy doesn't. It's unbelievable."
He also took the opportunity to thank the doctors and nurses that have taken such good care of Billy and to educate everyone about CHIP, the Children's Health Insurance Program. This program services about 9 million American children (that's about 1 in 8) whose parents "make too much money to qualify for Medicaid but don't have access to coverage through their jobs," Kimmel explained.
According to the Healthcare.gov website, CHIP not only provides low-cost health coverage to children it also covers pregnant women in some states. The program covers everything from checkups, immunizations, emergency services, and other preventative healthcare service that help keep millions of children safe and healthy and is now in jeopardy because of Congress' lack of action.
Kimmel explained that Congress has let the funding for CHIP run out, which is the first time this has happened since its inception, because they are spending time working on the new tax plan instead.
He also mentioned CHIP has never been a partisan issue, passing last in 2015 with a vote of 392 to 37 in the House and 92 to 8 in the Senate, but now because of their inaction (the first since the program began 2 decades ago), parents will be getting letters at the end of the year telling them their insurance has run out, "literally wondering how they are going to save their child's life," he said.
"I don't know about you but I've had enough of this," Kimmel stated. "What could be more disgusting than putting a tax cut that mostly goes to rich people ahead of the lives of children."
If the program isn't funded soon, most states will have few budget dollars left to keep a program going that has almost eliminated uninsured kids in the country. Kimmel is encouraging everyone to call the House and Senate at (202) 225-3121 immediately and tell them they "need to fund CHIP now."
This article was originally published on