Jimmy Kimmel's Debuts Spoof Line Of 'Karen' Dolls For Kids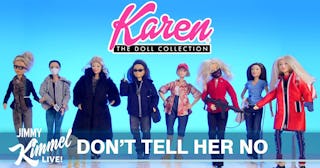 Jimmy Kimmel Live/YouTube
"Karen mask not sold separately because science is fake"
Leave it to late night talk show host Jimmy Kimmel to debut a fake line of dolls called Karen: The Doll Collection.
Last night during an episode of Jimmy Kimmel Live!, the late night host aired a spoof commercial for a fake line of Karen dolls for kids themed after Virginia Senator Amanda Chase, who, as you might remember, made headlines earlier this week after the state legislature placed her in a plexiglass box because she refused to wear a mask.
"There are so many women out there, like Amanda Chase, inspiring young Karens around the world that we decided to make a new line of dolls out of the women who Mattel it like it is," Kimmel said as he introduced the spoof Karen doll ad.
During the ad, kids are seen playing with the dolls and their accessories, which include a bootcut jeans, a Big Gulp soda, detachable guns, and "plenty of privilege."
We're also introduced to a motley crew of real Karens, including Stormed The Capitol Karen, which represents literally any white woman who attended the January insurrection; BBQ Karen, or Jennifer Schulte, who called the cops on a group of Black people barbecuing in a park; and Courtroom Karen, or Rudy Giuliani's star witness at an unhinged hearing in front of a Michigan House Oversight Committee in December.
There's also Trader Joe's Karen from June who refused to wear a mask inside of — you guessed it — a Trader Joe's.
In the then-viral video posted, two Trader Joe's employees confront the woman and escort her out of the store — but not before she aggressively throws her empty basket on the ground like a child, waves her finger at the camera, and screams at the top of her lungs, "You think this is OK?! You're a f***ing democrat party pig! All of you!"
And then there's Dog Walker Karen, or Amy Cooper, the white woman who called 911 on Black bird-watcher Christian Cooper (no relation) in Central Park after falsely accusing him of threatening her last spring. Prosecutors recently dropped the case against Cooper, the New York Times reported.
The ad also includes a Karen doll of QAnon Congresswoman Karen, or congresswoman Marjorie Taylor Greene, the Georgia representative publicly condoning the riots at the Capitol.
"Wildfires are caused by Jewish space lasers, pew pew!" the kids say in the ad as they play with the Greene doll.
"Collect them all before the Democrats steal them," the commercial states. "Karen mask not sold separately because science is fake, and she's an American citizen, not a f**king sheep. She's the absolute worst!"