Jimmy Kimmel Shares Happy Update And Adorable Photos Of His Baby Boy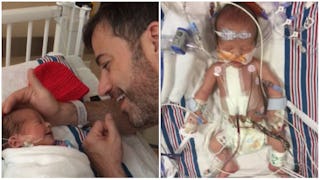 Image via Twitter/YouTube
Look at that smile!
Jimmy Kimmel is used to bringing us the news, usually with a sarcastic twist and hilarious delivery. But a few months ago he went on air to deliver a very personal piece of information – the health status of his new baby boy.
In early May, the Jimmy Kimmel Live! host made a gut-wrenching announcement on his show, telling viewers that he and wife Molly McNearney welcomed their second child, William John (Billy) Kimmel, and that immediately after birth, doctors realized there was a problem.
"The room started to fill up," Kimmel said during his May show. "More doctors, nurses, and equipment started coming in and they determined that he wasn't getting enough oxygen into his blood. It's a terrifying thing."
Doctors quickly discovered that Billy was born with congenital heart disease. Though they were immediately able to do surgery to repair his heart, Kimmel tearfully announced, "He'll need another surgery in a few months, when he's bigger, and one more in his early teens."
On Friday, Kimmel and McNearney both shared adorable photos of Billy to give fans an update on his progress. "Billy is three months old today and doing great," Kimmel tweeted. "Thanks for all your love & support and please remind your Congresspeople that every kid deserves the care Billy got."
According to the Children's Heart Foundation, congenital heart defects are the most common birth defects. Nearly one out of every 100 babies is born with a CHD (approximately 40,000 babies born in the United States each year). Children born with CHD can suffer health problems such as "issues with growth and eating, developmental delays, difficulty with exercise, heart rhythm problems, heart failure, sudden cardiac arrest or stroke."
During Kimmel's emotional monologue in May he said, "We were brought up to believe that we live in the greatest country in the world, but until a few years ago, millions and millions of us had no access to health insurance at all. Before 2014, if you were born with congenital heart disease like my son was, there was a good chance you would never be able to get health insurance because you had a preexisting condition. You were born with a preexisting condition, and if your parents didn't have medical insurance, you might not even live long enough to get denied because of a preexisting condition."
He went on to say, "If your baby is going to die, and it doesn't have to, it shouldn't matter how much money you make." Kimmel pleaded with Congress to preserve the Affordable Care Act saying, "I saw a lot of families [at the hospital], and no parent should ever have to decide if they can afford to save their child's life. It just shouldn't happen. Not here."
We're glad to see little Billy doing so well and we hope Congress is hearing Kimmel's urgent message.
H/T: E! News