Jimmy Kimmel Wishes Son Happy First Birthday In Sweet Instagram Post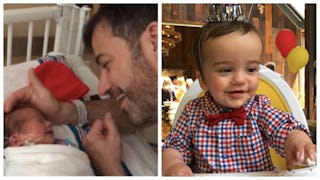 Image via Twitter/Instagram/Jimmy Kimmel
Kimmel's son Billy endured two open-heart surgeries in the last year
Jimmy Kimmel's son Billy underwent emergency heart surgery at just three days old, after being diagnosed with congenital heart disease. Ever since, Kimmel has used his show as a platform to bring awareness about the importance of access to quality, affordable healthcare for children everywhere.
A year after that harrowing experience, Billy is celebrating his first birthday — and the sweet Instagram post will make you teary in the best way.
"A year ago today, God gave us this tough little guy," Kimmel writes.
"Today we thank the nurses and doctors at Cedars Sinai and Children's LA who saved his life, and those who shared thoughts and prayers."
Kimmel has been vocal about the physicians and nurses who came to Billy's aid throughout the last year. After a year of heart surgeries, Kimmel and his wife, Molly McNearney have also been hugely vocal about their son's health and recognizing not every sick child has access to the same excellent healthcare treatment as Billy does.
Kimmel and McNearney have brought attention to CHIP, the Children's Health Insurance Program, a lot in the last year. Before renewing the funding for CHIP earlier this year, Congress' inaction led to the funding completely running out for the first time since its inception. Since the program services about nine million American children, Kimmel brought the matter up on his show — pressuring Congress to act. Eventually they did, but the fact that the safety and health of so many children and families was temporarily jeopardized is inexcusable.
Billy Kimmel has endured two open-heart surgeries during his first year of life and will likely undergo a third when he's a bit older. Even in his birthday post dedicated to his sweet son, Kimmel was thinking of other kids like Billy and urged people to get out and vote for candidates who can be relied upon to make the right decisions when it comes to providing excellent, affordable healthcare for all kids.
"We cannot stay quiet," Kimmel writes. "Please wish Billy happy birthday by REGISTERING TO VOTE!"