Netflix's 'Jingle-Jangle' Will Be Your Kids' New Favorite Holiday Movie
by Julie Scagell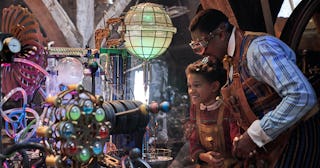 Gareth Gatrell/NETFLIX
The all-Black cast is sending viewers down a magical adventure
Netflix just released the full trailer for its Christmas movie, Jingle Jangle: A Christmas Journey, and it's going to be one to add to the list of family films in December (or whenever your holiday movie-fest begins).
The film stars an all-Black cast including Oscar-winner Forest Whitaker and other greats like Keegan-Michael Key, John Legend, and Phylicia Rashad (well, her voice anyway), with original songs by producer and singer John Legend, and an Usher/Kiana Ledé performance of "This Day" for the movie's soundtrack.
Jingle Jangle: A Christmas Journey is a musical adventure that takes place in the town of Cobbleton and follows toymaker and inventor Jeronicus Jangle (voiced by Whitaker) an inventor of epic proportions. Key plays his apprentice who, unfortunately for Jangle, steals his most coveted creation, a robot named Buddy.
Madalen Mills plays Jangle's granddaughter who sets off on a mission to save Buddy and the magic of the holidays. She tells her grandfather, "This is the only place I've ever been where I finally felt like I belong. We have to get Buddy back!"
Phylicia Rashad provides the grandmother's voice and is the backdrop for the trailer, giving viewers an insight into the world of Jangle.
Director David E. Talbert shared photos from the film and wrote: "Twenty years in the making… excited to share first look photos of my new film Jingle Jangle: A Christmas Journey – Netflix's first original live-action musical."
Talbert first thought about writing a Christmas-themed Broadway musical more than 20 years ago, and after his son was born, reimagined the idea as a film, according to Entertainment Weekly. ″For me as a father of a little Black boy and an uncle of a little Black girl, it's important for me to put images of wonder and magic that are universal out in the universe,″ Talbert said. ″Because if we never see it, then how do we know we can be it?"
The film was shot in the historic British town of Norwich, and transformed it into the perfect backdrop of a Victorian snowy village, perfect for any holiday adventure. Netflix promises the Christmas film will, "remind us of the strength of family and the power of possibility."
Other cast members include Anika Noni Rose (The Princess and the Frog), Kieron Dyer, Justin Cornwell, Lisa Davina Phillip, and Downton Abbey's Hugh Bonneville.
Legend's production company, Get Lifted, is behind the film's creation where he serves as producer and performer. Jingle Jangle: A Christmas Journey will be released on November 13 on Netflix.
This article was originally published on