Tweets To J.K. Rowling On 20th Anniversary Of Harry Potter Will Make You Feel All The Feelings
by Cassandra Stone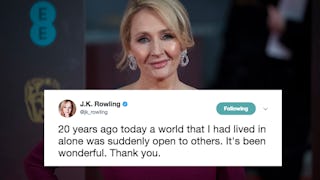 LONDON, ENGLAND - FEBRUARY 12: J.K. Rowling attends the 70th EE British Academy Film Awards (BAFTA) at Royal Albert Hall on February 12, 2017 in London, England. (Photo by John Phillips/Getty Images)
Get out some Kleenex and remember how Harry Potter changed your own life
Unless you're a clueless Muggle, you already know that today marks the 20th anniversary of Harry Potter's magical release into the world with Harry Potter and the Philosopher's Stone. Throughout the last two decades, the trials and successes of Harry Potter and friends have enchanted the imaginations of adults and kids alike. It's practically impossible to put into words the impact the series has had on its fans.
Author, deity, and whole-new-universe-creator J.K. Rowling shared her gratitude for Potter lovers on Twitter today.
Predictably, fans everywhere responded in abundance, sharing how much her books meant to them for the last twenty years. The response has been huge and heartwarming, to say the least.
The Harry Potter series is sacred to many of us who used the books as the perfect escape from whatever life handed us at the time. It allows readers to completely exit their current world and enter a whole new one, full of adventures beyond our wildest imaginations.
Damn. The kind of meaningful art that touches lives like this really deserves to be celebrated. I know each and every one of these books provided a safe haven of love and excitement for my little sister as she endured puberty, school bullying, our parents' divorce, and switching schools all in the short span of a few years. It was hell for her, and I know for a fact her love for these books carried her through.
https://twitter.com/jetpack/status/879304546345943042
Is it getting dusty in here? I don't know if I need some Pledge or a tissue! Never underestimate the healing powers of imagination.
https://twitter.com/jetpack/status/879344945043095552
Whew. Eyes getting full. Gonna spill over. Dam. Is. Breaking.
For the last, oh, I don't know, however-many-days-since-the-election, a lot of people have been using Harry Potter as a euphamism for The Resistance. Sure, that can be considered a little cheesy. But it's really more of a testament to the power of the story. Harry Potter's will for finding The Good in his world and fighting for it has been inspiring people for the last twenty years, and why wouldn't it continue?
Hell yeah. Let's not forget how important it is to acknowledge the sheer fact that these books got kids to read. Not only read, but voraciously devour each book. I remember taking my sister to the midnight release party for Harry Potter and the Deathly Hallows and being completely stunned at how jam-packed the bookstore was with kids of all ages, a lot of them in costume, jittery with excitement.
We'll raise a Butterbeer to that.