Teachers Can Now Post Videos Reading The 'Harry Potter' Book Series To Students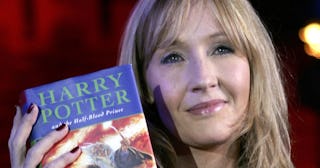 Christopher Furlong/Getty Images
J.K. Rowling lifted the license, now allowing teachers to read 'Harry Potter' to kids at home
Harry Potter fans, rejoice! J.K. Rowling is doing her part to help people get through the coronavirus pandemic by granting an open license for teachers to post videos of themselves reading to their students who are at home from her Harry Potter series.
The bestselling author and her agents The Blair Partnership announced that they will relax the usual copyright permissions allowing teachers to continue to connect with their students while they are out of school. "Teachers can now post videos of themselves reading aloud from the Harry Potter books to children prevented from attending school because of the Covid-19 virus," Rowling said.
Teachers anywhere in the world are permitted to post videos of themselves reading from all seven Harry Potter books from now until the end of the school year (or the end of July in southern hemisphere).
Educators can upload videos of themselves reading from the seven Harry Potter books onto their schools' secure networks or closed educational platforms until the end of the school year.
"Delighted to help teachers reach kids at home by relaxing the usual license required to post videos of themselves reading Harry Potter books," Rowling tweeted.
Some teachers expressed their gratitude to Rowling, one writing, "I'm a teacher of English in France and suggested my pupils read the Potter books. In these dark times, I'm twice as grateful for the world you've created. [Twenty] years later, it is still a safe place for me … much love Jo. Stay safe my Queen."
https://twitter.com/jetpack/status/1241018891851218945
https://twitter.com/jetpack/status/1241018797571612674
Schools across the globe are closed or are closing because of the coronavirus pandemic, hoping to stop the spread of the virus that has infected more than 315,000 people and killed more than 13,500 as of Sunday morning, according to Johns Hopkins University.
UK prime minister Boris Johnson (Rowling's home country) announced this week that all schools would be closed indefinitely.
"The open license for teachers is the first of several initiatives being planned to help bring Harry Potter to children at home," Rowling said in a prepared statement.
Several publishers, including Simon & Schuster, HarperCollins, and Scholastic, also have lifted copyright restrictions due to the COVID-19 outbreak. Audiobook service Audible also launched a site called Audible Stories where parents and kids can listen to children's and family audiobooks free of charge. The books are separated into six categories: "Littlest Listeners," "Elementary," "Tween," "Teen," "Literary Classics," and "Folk & Fairy Tales for All."
For parents who have kids at home, Rowling's move will allow them one more way to entertain their kids while cooped up. As much as it's impacting our schedules, missing the structure of school, friends, and classrooms is taking its toll on our kids as well.
"Be well, everyone," Rowling wrote before adding the hashtag #HarryPotterAtHome.
Information about COVID-19 is rapidly changing, and Scary Mommy is committed to providing the most recent data in our coverage. With news being updated so frequently, some of the information in this story may have changed after publication. For this reason, we are encouraging readers to use online resources from local public health departments, the Centers for Disease Control, and the World Health Organization to remain as informed as possible.
This article was originally published on