JLo Singing A Duet With Her Daughter On Tour Will Bring You To Actual Tears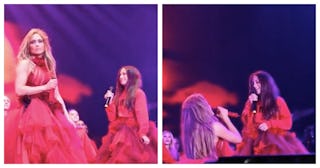 Instagram/Jennifer Lopez
Watching JLo as a proud mama will have you reaching for a box of tissues ASAP
If there's one thing we know for sure, it's that the genes run strong with the Lopez-Anthony kids. Take JLo's daughter, Emme, for example. She's already proven she's got the singing chops to hold up to her mom and dad, Marc Anthony, and now she gets to see what having star power is really like. Her mom brought her up on stage to sing a duet for the opening night of JLo's new tour, and it's everything.
Lopez posted a video to her Instagram account, and you can see some serious mother/daughter magic happening. They're both wearing beautiful, flowy red gowns. Their hair is beautiful and flowy. And, because we're the luckiest audience in the world, we get to hear just how beautiful their singing voices are together.
"I can't take it!" Lopez captioned the video, sharing the hashtags #Limitless and #ProudMama — because OMG, how could she not be bursting at the seams?! Emme's voice is so pure and yet so strong, she's definitely got the family talent.
The best part is when Emme goes off on and nails a few high notes, and JLo turns to the audience as if to say, "Can you believe this girl? That's MY girl!" and that, coupled with the part where the beaming mama crouches down to the floor of the stage so her little girl can shine, is when Niagra Falls began pouring out of my eyeballs.
Last month, Lopez shared a video showing a day in her life as she prepared for her "It's My Party" tour, and part of the video shows 11-year-old Emme getting a vocal lesson. She belts out Alicia Keys' "If I Ain't Got You" right in front of her teacher and her mom like it's absolutely no problem whatsoever, and it's just so good. (Skip ahead to the 4:07 mark to watch her sing like a pro.)
Aside from what's sure to be a worldwide, sensational tour and having pretty awesome kids, Lopez is also set to marry her longtime love, Alex Rodriguez, sometime in the near future.
And the two have already proven they're experts when it comes to co-parenting and co-existing with their exes in a respectful and pleasant way — check out this adorable display of family unity at a recital for Lopez and Anthony's son, Max.
After all this sweetness and love going on with JLo, ARod, and even Marc Anthony, all we have is one last question: Can we join this amazing family? PLEASE?