JLo Learned To Pole Dance In 6 Weeks And Has Video To Prove It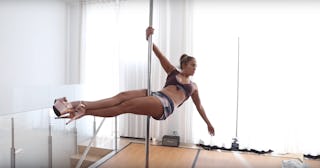 YouTube
JLo just nailed learning how to pole dance like an actual professional in only six weeks
When you think about it, six weeks isn't a very long time. When you consider learning an athletically rigorous new skill in just six weeks, it seems like even less time. Like, can you imagine becoming a professional level long-jumper or figure skater in a month and a half? It seems impossible. Yet that's what JLo did for her role in her upcoming movie Hustlers: She learned to pole dance as if she'd been doing it for years in just six weeks.
In a behind-the-scenes video, JLo chronicled the entire journey, from her first day of training to the first day of shooting on set, where she had to do her first dance in front of the cameras. She worked with Johanna Sapakie, a professional pole choreographer who helped the entire cast train. What's really difficult about JLo's role, though, is that she plays the older, wiser strip club matriarch. While some of the other actors in Hustlers can get away with looking like beginners because their characters are just starting out as dancers, JLo had to look like she'd been a professional dancer for most of her life. And the training she went through to get there is ridiculous.
For one, every training session started with strapping on a pair of monster platform heels, because these are literally what you wear to pole dance, even when you're a beginner in training.
She then had to start with basic moves, like how to grip the pole to do certain spins, working her way up to climbing the pole and twirling around on it. Sometimes she nailed it, other times, she ended up on the floor. Honestly, it looks completely brutal.
JLo had to keep a pole set up in her home so she could practice after hours to nail all the moves, and if that's not dedication to a role, I do not know what is.
Oh, and throughout training she keeps talking about having to compress the physical aspect of all this into six weeks so she can also spend time getting mentally and emotionally into the character she needs for the movie. Have we mentioned how incredible this woman is?
In case that isn't all crazy enough, check out the bruises JLo ended up getting from her hours-long training sessions.
Our thighs hurt just looking at this.
"This is just as hard as anything I've ever learned. It might be the hardest," she says at one point. "I've never been bruised like this for anything I've done."
Um, yeah, it looks like it. Sympathy ouchies over here.
At the end of the video, we get a sneak peek at JLo shooting one of her first scenes for the movie, and we highly recommend you watch it. She is a queen. That is all.
Hustlers premieres this weekend, and you bet after watching this video we will be there.