OMG, JLo And Shakira Are Performing At The 2020 Super Bowl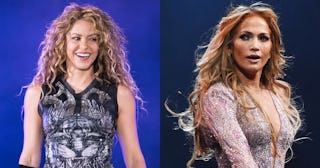 Noam Galai/Ethan Miller/Getty
JLo and Shakira performing together? Be still our millennial hearts
Finally, something worthwhile to look forward to in 2020 — JLo and Shakira will perform together for the 2020 Super Bowl. And oh, what a halftime show it'll be. Unlike years past, where the major networks were gun-shy about showing a riveting performance after the Justin Timberlake/Janet Jackson halftime show of the early aughts, these performers are gonna BRING. IT.
The NFL, Pepsi, and Roc Nation announced earlier today that these amazing women will perform at the Super Bowl on February 2nd a the Hard Rock Stadium in Miami Gardens, Florida. And honestly, let's just break out our old "On the 6" and "Laundry Service" CDs in the meantime.
Both stars took to social media to share the exciting news.
https://www.instagram.com/p/B24wP5cJ7Jp/
"Going to see the world on fire," Lopez writes, while Shakira posted the same photo on her own Instagram page, captioning it: "It doesn't get any bigger than this! So excited about getting on that #SuperBowlLIV #PepsiHalftime stage!"
Before we set our DVRs for this already, can we please just take a moment to acknowledge the BANNER YEAR JLo is having? Her personal life appears to be going swimmingly, what with her engagement to longtime love Alex Rodriguez and her incredibly sweet and even more talented children following in her talented footsteps.
But she's on fire, career-wise. There's Oscar buzz surrounding her role in the new movie, Hustlers, her world tour was a smash, and she just closed the Versace spring fashion show by wearing THE DRESS. THAT. DRESS. And while being 50 years old is hardly some crotchety death sentence, it's worth appreciating how amazing she looks — because it would be amazing at any age. All bodies are good bodies, but JLo's body is also capable of superhuman abilities (did ya see that pole dance of hers?), so let's just take a moment and bow down.
It's also exciting as hell that Shakira will be rocking the Super Bowl stage. She basically has to perform "Hips Don't Lie" and "Whenever, Wherever," right?
"These two remarkable artists are setting a new precedent for what this show can become, and we're confident that this will be an incredible performance for the ages," Todd Kaplan, Pepsi's vice president of marketing, said in a statement announcing the halftime show news.
YES. This is what we all need to kick off 2020, real talk. Kudos to Pepsi for recognizing that.
This article was originally published on