JoAnn Fabrics Is Providing Free Supplies So Anyone Can Make Protective Masks
by Cassandra Stone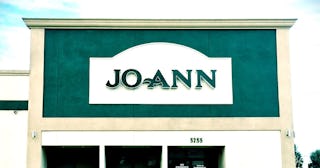 Juan Camilo Bernal/Getty
The make-your-own-mask kits are free and can be picked up curbside at JoAnn Fabrics stores
Craft store JoAnn Fabrics is providing a way for everyone to help healthcare workers working along the front lines during the coronavirus crisis. The chain store is giving away kits to the public so anyone can make masks for doctors, nurses, and other first responders.
As the spread of COVID-19 grows worse, doctors and nurses are running short on N95 masks, which protect against virus transmissions. In some cases, medical workers have been forced to sanitize and reuse their masks, going against CDC guidelines, while others have resorted to using scarves or bandanas to protect their faces.
In order to comply with social distancing, you can pick-up the ready-made kits curbside at your local JoAnn Fabrics, and, once you finish making them, you can drop the complete masks back at the store and they will be donated and distributed to those who need them the most.
Customers who want to take advantage of this offer can use JoAnn's Ship-to-Home and Curbside Pickup options. There are tutorials and instructions online, at joann.com/maketogive.
While adhering to CDC-recommended guidelines for social distancing and local restrictions, JoAnn Fabrics is also opening classrooms in stores to any who wants to help make these essential items, with sewing machines, materials, and further guidance to those who want to donate to America's hospitals.
All participating stores that remain open will serve as "collection points" for those making the masks in their homes. All items donated from customers will be donated to help hospitals and other medical systems extend their dwindling supplies of protective equipment, to be used at the hospital's discretion.
JoAnn Fabrics is also working with larger hospitals and medical facilities to secure materials such as fabric, elastic and clear vinyl to hospitals that are in need of supplies.
Recently, fashion designer Christian Siriano offered his staff's services to help combat the growing epidemic and mask shortage in New York City.
According to a publicist for Siriano, Bianca Bianconi, the designer "has a staff of sewers "on salary sitting at home and ready to work. They're starting to make them now, which we will donate and then a plan will be put together as we flesh it out to manufacture them/more."