'This Is 40': Joanna Gaines Shares Adorable Birthday Bump Photo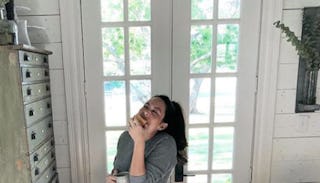 Image via Instagram/Joanna Gaines
Joanna Gaines is 40, pregnant, and eating donuts in adorable Instagram pic
Joanna Gaines has so much shiplap and money and a huge fanbase, so it seems kind of unfair that while pregnant at 40, she looks better than I did non-pregnant at 20. But such is life, and seeing her so happy and enjoying her birthday donuts is one of the cutest things the internet has brought us this week.
At the start of this year, Joanna and husband Chip, of the insanely popular HGTV show Fixer Upper, announced they were expecting their fifth child. Yes, she looks that good while pregnant at 40 with her fifth child. Yes, I still love her but I will fully admit my envy.
Look at this beauteous angel.
"This is 40. And I like it…#prenantandforty #anddoughnuts," she writes. And who could blame her for liking it? Look. At Her.
Like, who looks this good pregnant? Well, plenty of women — just not me. That hair. Just when we thought it couldn't get more flowy and gorgeous, here comes pregnancy hormones.
Since announcing that their show would end with the fifth season (which just finished airing this month) and that they were expecting their fifth child (five is apparently their number) the couple have been sharing cute baby bump pics and talking about their future show-less life. "They're so young, and we want to give them the chance to have a normal childhood. Family is the most important thing in the world," Joanna told People last year.
It's clear they're looking to wind down a bit and spend time as a family, which is totally understandable and frickin' adorable.
Hopefully, being less busy with their show will mean Joanna has plenty of time to post photos of her new babe's undoubtedly perfect nursery and to regale us with tales of life with five kids. If anyone can handle it and still have effortlessly perfect hair, it's her.