Joanna Gaines Posted A 'Diaper Blowout' Pic And It's Somehow Still Perfect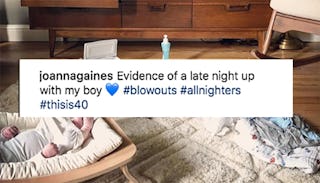 Image via Instagram/Joanna Gaines
Joanna Gaines shared a photo of the aftermath of a tough night with baby Crew
Joanna Gaines is that friend who opens the door to her home and immediately apologizes for "the mess" as your eyes take in the most perfect scene imaginable to man. No crumbs, no dirty shoes blocking the entry, no sticky breakfast remnants on the counter — shit, is that harp music and a waterfall gently trickling in the background? And even if there were a bit of a mess, it would somehow still be endearing and pleasing to the eye, which is what Gaines' latest Instagram post demonstrates.
"Evidence of a late night up with my boy," she writes. And if your next question is, "what evidence?" then you're on my level and we can be friends.
She uses the hashtags #blowouts, #allnighters, and #thisis40, and while we don't doubt that tiny baby Crew kept his parents up all night, he did so in artfully arranged surroundings fully in keeping with his mom's design preferences. Let's break it down.
There's a pristine cream-colored rug (which, a white rug with five kids in the house? I want her confidence), one entire drawer hanging open (pure chaos, y'all), a pretty wipes container, a few piles of tasteful-looking baby clothes and wraps, and Crew sitting in his sleek bouncy seat. If this is a "blowout" I can't imagine the room in its usual state of perfection.
Now let's talk about a rough night featuring a blowout at my house. Wadded up dirty diapers on the floor, spit up stains on the carpet and probably the ceiling, who the hell knows, definitely some baby poop smeared on the wall above the changing table, and at least one filthy onesie hanging from the glider. Something tells me that reality does hit at Casa Gaines, but that's not what makes it to the beloved HGTV star's Instagram account.
Of course, Gaines' aesthetically pleasing baby mess is probably curated meticulously and all part of her brand, but I can still giggle at the suggestion that this lovely scene is somehow evidence of a tough night up with baby. It looks as inviting and coordinated as a Real Simple spread, you guys.
Ever since the June birth of adorable Crew, the fifth child of the Gaines clan, we've seen little glimpses of their idyllic life post-baby, and though I will roll my eyes from here until next Tuesday when Joanna calls a few luxury-brand onesies on the floor a mess, I still want to see as much of the family's gorgeous home life as possible.
Keep it coming, Chip and Joanna. May we all aspire to have your mess be our best.
This article was originally published on