Joanna Gaines' Book-Themed Baby Shower Is Ridiculously Adorable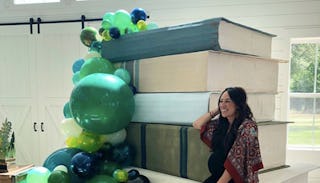 Image via Instagram/Joanna Gaines
Joanna Gaines is expecting baby number five this summer
Baby showers are the best. Family and friends bestow gifts and advice, many a pastry is consumed, and everyone gets to "ohhhh" and "ahhhh" over teeny-tiny outfits. No matter how many kids you have, it's nice when the people who love you go to the effort of celebrating your impending arrival. Joanna Gaines' friends did just such a thing and the theme for baby number five's shower was too cute for words.
"I like big books and I cannot lie," Gaines, one half of the wildly successful HGTV show Fixer Upper, posted on Instagram. "Blown away by the creativity and thoughtfulness of my friends- just the cutest book shower ever for baby Gaines! Feelin' the love… now I just need to figure out how to shove these books in my car so I can get them to the farm!"
At the start of this year, Joanna and husband Chip, announced they were expecting their fifth child around the same time they told viewers they wouldn't be renewing their much-loved series."They're so young, and we want to give them the chance to have a normal childhood. Family is the most important thing in the world," Joanna told People.
The gorgeous mom-of-four has been sharing adorable pics of this pregnancy, including one of her turning the big 4-0. I mean, seriously, how do you look this good pregnant?
Already parents to sons Duke, nine, and Drake, 13, and daughters Emmie Kay, eight, and Ella Rose, 11, Gaines told People this time she's taking time to enjoy her pregnancy a bit more. "I had four kids aged 4 and under," she said. "There were so many diapers, and it was chaos. Those years just flew because there was so much happening in the moment. I feel like I can really take this one in and relish these moments."
And how can she not enjoy things this time around when her friends throw such a thoughtful shower? Books are the best and no matter how many you have (at any age, really), it's always fun to get more.
Gaines is due sometime this summer, so here's hoping she continues to share many more pictures of what's sure to be a very gorgeous and very loved little one.
This article was originally published on