Joanna Gaines Shares Name And Adorable First Pics Of New Baby
by Cassandra Stone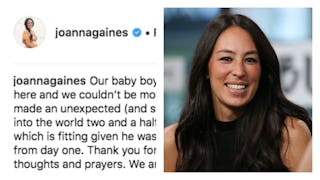 Image via Instagram/Joanna Gaines/Getty/Rob Kim
Joanna and Chip Gaines welcomed their 5th child, a baby boy, yesterday
Joanna Gaines shared a series of adorable photos of her and husband Chip's new bundle of joy, and just like everything Joanna and Chip create — he's perfect.
Chip announced the birth on his Twitter account yesterday morning, but we we've all been waiting in anticipation to see a photo and hear what Baby Gaines' name is.
Well, the wait is over. Gird your ovaries, everyone.
"Our baby boy, Crew Gaines, is here and we couldn't be more in love," Joanna shares. "He made an unexpected (and speedy) entrance into the world two and a half weeks early — which is fitting given he was a sweet surprise from day one. Thank you for your thoughts and prayers. We are so grateful."
Crew Gaines! Could that be a more perfect name to add to the Gaines crew? And can we all just take a minute here and appreciate how amazing Mama Jo looks literal moments after delivery? I don't even look like that after a light walk around the block, let alone after labor.
Joanna shared several intimate, sweet moments captured on camera — like this one of her and Chip, where he's coaching her through contractions. Thankfully he wasn't karate kicking a sheet of shiplap or engaging in any of his Fixer Upper-style antics during Crew's birth.
Baby Crew joins big brothers Duke and Drake and big sisters Ella and Emmie Kay, who were all present to welcome their new sibling right after he was born.
Perhaps the sweetest photo Joanna shared is one leading up to Crew's arrival, where his siblings are (im)patiently waiting in excitement.
"One of my favorite pics a friend showed me after Crew was born. They couldn't wait to meet their new baby brother."
Congratulations to all seven members of the Gaines family!
This article was originally published on