Joaquin Phoenix Just Named His First Son 'River' And The World Is Sobbing
by Christina Marfice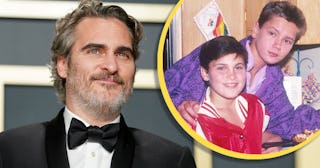 Rachel Luna and Dianna Whitley/Getty
Just when you thought there was no good news happening this year, Joaquin Phoenix welcomed a baby boy and named him River
With everything awful that's been happening in 2020, it can be hard to remember that in some ways, life is continuing on like normal — and even joyful things are happening. That's why we're so excited about literally every celebrity baby announcement that comes across our news feeds this year. But this one is even more touching than usual. Joaquin Phoenix and Rooney Mara just welcomed their first baby together, a boy, and reports say that they named him River.
BRB while I have a good cry over this, along with the rest of the internet.
The name is a tribute to Joaquin's brother, River Phoenix, who died in 1993. The late River was also an actor, and had a celebrated career, including a nomination for an Academy award, that was cut tragically short when he died of a drug overdose at just 23 years old. He and his brother were close throughout his short life.
Director Viktor Kossakovsky spilled the news about the baby and his name at the Zurich Film Festival, where he was promoting his new film Gunda. Joaquin Phoenix serves as executive producer for the film.
"He just got a baby, by the way, his name was… a beautiful son called River, so he cannot promote [the film] right now," Kossakovsky told viewers at the festival while apologizing for Joaquin's absence from red carpets and screenings.
Joaquin and Mara have not yet made any public statements about the birth of their son, or his name, but it's still one of the sweetest things to come out of the news cycle in a while, and fans are here for that — whenever they can stop sobbing.
Joaquin and Rooney Mara met in 2012 on the set of Her, but didn't step out publicly as a couple until 2017 when they attended the Cannes Film Festival red carpet together. They've been side-by-side ever since, including in the last year, when Joaquin won a number of awards for his performance in Joker. In his acceptance speech for a Tribute Actor Award at the Toronto International Film Festival last year, he credited his late brother River for his acting career.
"When I was 15 or 16 my brother River [Phoenix] came home from work and he had a VHS copy of a movie called 'Raging Bull' and he sat me down and made me watch it," he said. "And the next day he woke me up, and he made me watch it again. And he said, 'You're going to start acting again, this is what you're going to do.' He didn't ask me, he told me. And I am indebted to him for that because acting has given me such an incredible life."