Kamala Harris Makes History As The First Black Female VP Nominee
by Valerie Williams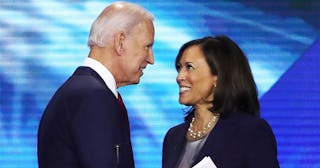 Win McNamee/Getty
Kamala Harris is on Joe Biden's ticket as Vice President
Presumptive democratic presidential nominee Joe Biden just announced that his running mate will be California Senator Kamala Harris!
Biden shared the news on his Twitter account. "I have the great honor to announce that I've picked @KamalaHarris — a fearless fighter for the little guy, and one of the country's finest public servants — as my running mate." Harris is the first Black woman to be on the ticket as Vice President.
He went on to further explain his choice noting that Harris worked with his late son Beau when she was California's Attorney General. "Back when Kamala was Attorney General, she worked closely with Beau. I watched as they took on the big banks, lifted up working people, and protected women and kids from abuse. I was proud then, and I'm proud now to have her as my partner in this campaign."
Reacts are already coming in and it looks like people are very here for Biden's choice.
Elected as California's junior Senator in 2017, Harris had already served nearly two terms as the state's Attorney General. She launched her candidacy for president last year in Oakland and dropped out of the race at the end of 2019.
She took to Twitter earlier today to show support for electing more Black women and women of color.
This article was originally published on