Joe Biden Is A Dad Who Has Suffered Tremendous Loss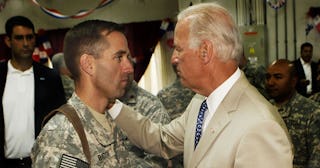 KHALID MOHAMMED/AFP/Getty
As I was doing my usual morning scroll of online news, I stumbled across something that stopped me in my tracks and unexpectedly left me in tears. Refreshingly, this wasn't due to some wackadoodle headline about Donald Trump that usually triggers my anxiety. (And since I'm on the topic — no, our deranged bully-in-chief does not get a gold ribbon for slightly behaving himself while gaslighting his entire way through the final presidential debate on Thursday night.)
The moment that gave me pause was when I found an old video of the famous other candidate on the debate stage, Joe Biden, that has resurfaced just in time for the November 3rd election. To be completely honest, I've probably re-watched the clip about a dozen times.
In the footage, the former Vice President can be seen shaking hands with survivors and relatives of the victims who were brutally killed in the 2018 Parkland shooting. As Biden turns away after being introduced to widow Debbi Hixon, whose husband Chris died while attempting to disarm the school shooter, her son Corey immediately sprints over to him and wraps his arms around the current presidential candidate as he emotionally shouts "I'm his son!" Biden kisses Corey tenderly on the forehead, thanks him for the hug, and asks the young man if he's doing okay. Corey heartbreakingly shakes his head to answer — because he, in fact, is far from okay.
The two stay wrapped up in a tight embrace for some time, with Biden holding Corey as he gently comforts him.
Witnessing this touching moment helped me to finally remember what it's like to have mindful, generous, and compassionate leadership in our country. But we cannot merely assume that Biden's loving interaction with Corey Hixon was due to his evident sincerity, because to do that would dishonor a major part of his life story that has shaped this genuinely decent human being into who he is today.
Joe Biden was able to truly connect with Corey because he too has known and survived unimaginable grief.
During the winter of 1972, the Delaware resident had just been elected to the United States Senate and was happily married to his first wife and college sweetheart Neilia. They had three young children together — sons Beau, age 4, and Hunter, age 3, along with Naomi, their 1-year old baby girl. Biden was working in Washington as the second youngest person to ever be elected as a state senator when he received the tragic phone call that no father or husband ever wants to receive. As Neilia was out driving with the kids to buy a Christmas tree, a tractor-trailer slammed into the family's car, knocking it completely off the highway. The crash killed his wife and daughter and left his two small sons with serious medical injuries.
Biden was just 30 years old at the time and had barely a moment to mourn his wife and daughter's deaths because of his sons' critical conditions. In his New York Times Bestseller Promises to Keep, the father reveals painful thoughts that swirled around in his head about potentially ending his own life after losing two of the people who mattered most to him. Biden ultimately knew that he could never abandon his boys, so he pushed on in his overwhelming grief to be a stable source of love for them.
While his two children spent months in the hospital recovering, their dad stayed devotedly by their side. He was even officially sworn into the Senate right next to their hospital beds, after debating whether to resign from the job he had just been elected to do.
"One of my earliest memories was being in that hospital, Dad always at our side," son Beau said in the 2008 DNC speech where he introduces his father. "We, not the Senate, were all he cared about. He decided not to take the oath of office. He said, 'Delaware can get another senator, but my boys can't get another father.' However, great men like Ted Kennedy, Mike Mansfield, Hubert Humphrey — men who had been tested themselves — convinced him to serve."
Biden became so dedicated in his desire to create stability for his family that he ended up making the 110-mile commute from Delaware to our nation's capital for 36 years as he served in the Senate. Which meant that he didn't become an actual Washington resident until he was sworn into the Oval Office as VP in 2008.
"It was the only way that I could have been a Senator at all," Biden writes in a 2011 essay for Huffington Post. "I had to be able to get home to spend evenings with my two sons."
Three years after losing his wife and daughter, Biden's brother set him up with fellow University of Delaware student Jill Jacobs. After dating for a while, his sons begged their dad to pop the question to Jill. And so he did — on five separate occasions. Jill's reason for being hesitant to commit to a lifetime of marriage to Biden boiled down to her tangible connection with his surviving sons. She wanted to make sure she could be there for them in the way that they needed for as long as she was around to do it.
Ultimately, Jill decided to take the risk and agreed to marry the father who had lost so much. And it's pretty clear based on their four decades of marriage and the birth of their daughter Ashley that it was definitely a risk worth taking.
Just before they got married, Biden asked his bride-to-be a poignant question. He wanted to know how she'd be able to continue loving a widower who still deeply cared for his late wife.
"Anybody who can love that deeply once can do it again," Biden writes in his book as he recalls his wife unforgettable words. "That's when I realized exactly what Jill's love had done for me. It had given me permission to be me again."
Unfortunately, Joe Biden's life was ripped apart yet again by another tragedy that would shake him to his core after working so hard to rebuild his family. His son Beau suffered a mild stroke in 2010 and died in 2015 after a 2-year battle with brain cancer. He was only 46 years old.
Mourning the death of a second child was understandably gut-wrenching for Biden, and it led him to pause on plans to run for president in the 2016 election. He still had a country to help co-steer with former President Barack Obama, which he did with as much dedication as he mustered for his children.
To say that Joe Biden is a father who loves his kids would be an understatement by every definition of the word. Raising his children with fierce devotion has given the former Vice President a deep and redemptive purpose that has set the foundation for how he conducts himself in just about every aspect of his life. His undeniable decency is an extension of that purpose, which grew out of the immeasurable loss he has endured.
"You know, folks, my dad used to have an expression," Biden recounts during his 2008 DNC speech. "He'd say, 'A father knows he's a success when he turns and looks at his son or daughter and know that they turned out better than he did.' I'm a success. I'm a hell of a success."
Yes, Joe Biden, you definitely are. And thanks to your undoubtable humanity, you will be getting my vote on November 3rd.
This article was originally published on