Pink, John Legend, Bon Jovi & More To Perform at Joe & Kamala's 'I Will Vote' Concert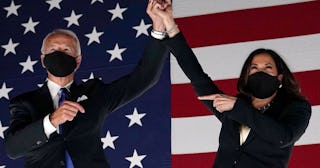 OLIVIER DOULIERY/AFP via Getty Images
Joe Biden and Kamala Harris are hosting a star-studded virtual concert on Sunday, October 25, 2020
We're nine days out from the election so Joe Biden is pulling out all the stops and has orchestrated a massive online concert to raise some more funds for his presidential campaign. If Barack Obama's amazing Trump roast in Florida on Saturday didn't convince you to vote for Joe, maybe some celebrities will do the trick? Stars like Pink, Cher, John Legend, Ciara, Sara Bareilles, Macy Gray, Ben Platt, Jon Bon Jovi, the Foo Fighters, Black Eyed Peas, Jennifer Hudson (and many more) are all performing tonight, October 25, 2020, at the virtual I Will Vote concert to raise funds for Joe Biden and Kamala Harris' campaign.
"You know what's just as powerful as music? Voting. I'm joining some incredible performers for a concert to support @JoeBiden, @KamalaHarris and Democrats down the ballot," Pink shared in an Instagram post announcing the surprise concert. Dave Matthews Band also shared the announcement, boasting that they are "joining an incredible group of performers and special guests."
Hosted by George Lopez and Ana Navarro, it's like a Grammy's performance meets Coachella, but online! What is the Trump administration doing in terms of entertainment? The president shuffling around to The Village People? No thank you.
In addition to the performances, there will be special guest appearances from your faves like Lin Manuel Miranda, Billy Porter, Amy Schumer, and the boys from Queer Eye, just to name a few.
The I Will Vote concert airs this Sunday, October 25, 2020, at 8:00 p.m. EDT, 5:00 p.m. PDT and the only way to watch it is to donate to the Biden campaign. The good news is that you can donate any amount. So if you were planning to send a few bucks Joe's way, you might as well do it now and get access to the concert. Once you donate, video conferencing information to access the virtual show will be sent via email.
Just last week the cast of Hamilton got back together to fundraiser for Biden as well, because the Biden-Harris campaign is going all out to save this democracy. Whether you already voted, or are still looking over your ballot, tonight's online concert just sounds like a nice break from the election madness. To RSVP and learn more about tonight's "I Will Vote" concert, head to Biden's campaign site.
This article was originally published on