Joe Biden Is Not F*cking Around, Not Even A Little
by Kristen Mae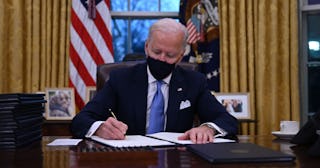 JIM WATSON/AFP via Getty Images
Hearing President Joe Biden … (whew, it felt really good to type that, holy shit, I just almost passed out) … okay, let me try again: Hearing President Joe Biden (!!!) speak at the podium during his inauguration wasn't only refreshing because he spoke in complete sentences and didn't sound like a total sociopath, but also because he was so obviously raring to bust out of the gate and get to work. He spoke about getting to work today, like, right now, the moment the inauguration ended. No time for celebrating, he was clearly saying; we've got a mothafuckin' mess to clean up. He was like a bull ready to charge out into the rodeo ring, except, instead of being intent on destroying things, President Biden is here to repair.
President Biden (yes, I'm probably going to overuse his full title whenever I can avoid boring pronouns like "he") committed to signing 17 executive orders, 15 of them executive actions, on day one alone, and has an ambitious plan for his first 100 days in office. Many of these changes are in direct opposition to actions Trump took.
A Federal Response To COVID-19
First and foremost, President Biden is making some major changes to finally bring COVID-19 under control. It was obvious to experts, health officials, and examples from other countries' handling of the pandemic that the best way to control the spread of the virus would be via a federal, top-down approach. With that in mind, President Biden is implementing a "100 Days Masking Challenge" in which masks and social distancing will be mandated on all federal property by federal employees and contractors.
President Biden is also bringing back the "Directorate for Global Health Security and Biodefense," a position that existed during the Obama era and assisted with curtailing the 2014 Ebola epidemic. A "response coordinator" will keep the president updated on vaccine issues, testing, and PPE availability and production. Oh, and we'll rejoin the World Health Organization and resume active status within it, because fucking duh.
But President Biden Won't Forget That Americans Are Struggling Financially
The COVID-19 response requires sacrifice, and President Biden knows that. That's why he is extending the eviction and foreclosure moratoriums through at least March 31 — under Trump, this relief was set to expire at the end of January. Similar relief will come in the form of foreclosure moratoriums on federally backed mortgages obtained through Veterans Affairs, of which there are more than 11 million. Student loan payments will be paused through September 30.
President Biden also hopes to make good on his promise to cancel $10,000 of student loans, but this measure will take more time as it must pass through Congress.
Bringing Back Humanity — And Concern For Human Rights — To The White House
The Biden administration is reversing Trump's absurd "1776 Commission," the (admittedly toothless) order calling to implement a "patriotic" public education that would eliminate the teaching of the atrocities of slavery, Jim Crow, systemic racism, and other inequities that schools across the nation were finally starting to teach accurately. Trump called these accurate portrayals of history "toxic propaganda."
President Biden is also issuing an executive action to determine whether federal funds are being distributed equitably to include communities of color and other marginalized communities. Workplace discrimination protections will be strengthened as well, including discrimination on the basis of sexual orientation or gender identity.
And That Includes Immigrants
Non-citizens will once more be counted in the U.S. Census, as they always have been. In July of 2020, Trump ordered undocumented Americans not be counted, a move that would impact the amount of funding states would receive and the representation they would get at the federal level, as well as violate the U.S. Constitution and the Census Act of 1790. Not that Trump would ever let a silly thing like law, or the Constitution, get in the way of his agenda.
Via executive order, President Biden will protect DACA, also known as the "Dreamers" program, conferring permanent status and a path to citizenship on nearly a million undocumented young Americans who have lived nearly their entire lives in the United States. Trump tried to rescind DACA in 2017 and deport all these folks away to countries that were completely foreign to them, but the Supreme Court upheld the law.
President Biden is ending the racist and xenophobic "Muslim travel ban," which restricted travel and immigration to the U.S. from 12 majority Muslim countries, and halt funding and construction on the border wall between the U.S. and Mexico.
Giving A Crap About Environmental Accountability Again
President Biden is revoking permits for work on the Keystone pipeline, functionally halting that project. He'll revoke the decision to allow development of Bears Ears and Grand Staircase-Escalante national monuments in Utah, as well as at the Northeast Canyons and Seamounts Marine national monuments in New England, lands that had been designated for wildlife protection by President Obama back in 2016.
And, of course, President Biden will be rejoining the Paris Climate Agreement, undoing the international embarrassment of Trump's Earth-tantrum wherein he gave a massive double middle finger to the planet we live on because profits matter more than sustainability, hail Capitalism. Ugh, I just threw up in my mouth. *Chants to self, President Biden, President Biden, President Biden…*
We Still Want — And Need — Accountability
These are some great measures by the Biden administration, and we're completely here for all of it. But we also want to see some accountability from the Trump administration — from the man himself, via impeachment so he can't run for president again in 2024 — and from those who enabled him by spreading his lies to the constituents with whom they hold a sacred pact to tell the truth.
Trump's policies were racist and inhumane, but his deliberate attempt to foment distrust of objective fact and supplant truth with an invented reality is perhaps the most damaging thing he has done. We have a long, long way to go to rebuild a foundation of shared reality. The only way we'll truly heal is if those who helped spread Trump's lies finally tell their constituents the truth.