Security Guard Gives Biden Her Very First Vote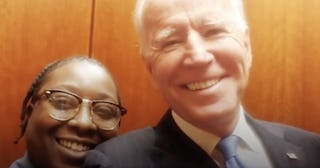 Joe Biden/Instagram
Jacquelyn Brittany, the security guard who met Joe Biden in a viral video and later announced his nomination for President, stars in his latest ad
Jacquelyn Brittany's live changed forever on December 16, 2019, when she showed up for her job as a security guard at The New York Times. She had no idea that Joe Biden, who was gunning for the Democratic party's presidential nomination, and his team would be under her watch for the day. After a video of the encounter went viral — which included the woman confessing her love for the politician in the most adorable way possible — she was later asked to announce his formal nomination at the Democratic National Convention in August. On Sunday, Biden shared another heartwarming video of his biggest political supporter, in which she reveals she will be casting her first-ever vote for him.
"Jacquelyn — I'll never forget the day that we met and the kindness you showed me in that elevator. I'm truly honored to have your first vote," Biden captioned the video. "I promise you: we're going to change things. And when I win, you're going to get an invite to the White House."
"What's up Uncle Joe," she enthusiastically says in the video. "Thank you so much for that day, that experience. It's memorable and forever forever how I will remember how you were towards me and how you are towards people in general."
"Jacquelyn, you are worth more than just being acknowledged," Biden responds. "You were so good to me. You were so decent to me. Everybody deserves to be paid attention to and I really enjoyed getting to talk to you.In addition to that I think you are the reason The New York Times eventually endorsed me in the general election."
"I appreciate you because all of your sympathy and your compassion for me alone, I chose to vote, and I'm voting for the very first time in 32 years," she revealed.
The back-and-forth between Biden and Brittany continues, with the two adorably gushing over each other.
"We believe in you as a country, we need you as a country. And forever we will succeed with you in the oval office," she tells him.
Just like the original viral video, the interaction between the two perfectly demonstrates how Biden is the people's president, connecting with humans of different genders, races, ages, and sexual orientations. We hope Jacquelyn's words will inspire you to get out and vote. Not only do you matter, but your vote does too!
This article was originally published on