Biden Admin Has Already Paused Student Loan Payments Through September
by Christina Marfice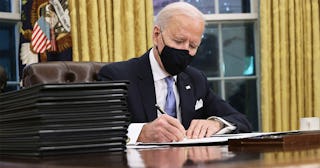 Chip Somodevilla/Getty
One of Joe Biden's first actions as president was to provide months more relief for Americans with student loan debt
Joe Biden isn't wasting any time. On Wednesday, he was sworn in as the 46th President of the United States. And from his inauguration ceremony, he headed to the Oval Office, where he got right to work.
On Wednesday afternoon, Biden formally asked his Department of Education to make sweeping moves to provide Americans with student debt relief: He signed executive orders extending the pause on federal loan payments through Sept. 30, and holding the federal student loan interest rate at 0%. It was a move that showed this administration plans to deliver on the campaign promises it made about prioritizing and addressing the nation's $1.6 trillion student debt crisis.
The executive action requesting an extension to the debt payment freeze was one of 17 executive actions that Biden signed on his first day in office. Many of them were aimed at providing relief to Americans who are struggling financially during the COVID-19 pandemic, like the one that ordered an extension of the federal moratorium on evictions and foreclosures. With those two moves, Biden might have saved countless Americans from serious hardship in the months to come.
An extension of the student debt freeze was discussed as part of the COVID relief bill Congress passed in December, but ultimately, it was left out of the final legislation. Without action from the Biden administration, payments were set to resume at the end of this month. More than 40 million Americans have federal student loan debt, and about 20 percent of them are in default, according to the Department of Education. A Pew study in November showed that almost 60 percent of borrowers said it would be "somewhat" or "very difficult" to start making payments again the following month.
During his campaign for the presidency, Biden promised to work on ending the student debt crisis, though it's not yet clear what that will end up looking like. He's put his support behind Congressional action to support $10,000 in federal loans for all Americans who have them, but others in his party have been calling for more — Sen. Elizabeth Warren wants Congress to act to forgive $50,000 in loans for each borrower, while Sen. Bernie Sanders wants all federal loans forgiven entirely.
There is one piece of good news: Biden's pick for education secretary is Miguel Cardona, a veteran of education who spent two decades teaching in a classroom. He's a stark contrast to Trump's education secretary, Betsy DeVos, a billionaire with no teaching experience whatsoever. No matter what happens, it seems like there will be brighter days ahead for American students.