'Pastor' Joel Osteen Blocks Mother Of Child Killed At Sandy Hook On Twitter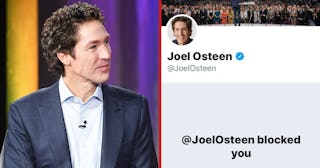 Paras Griffin/Getty and Nelba Márquez-Greene/Twitter
Texas pastor Joel Osteen is under fire again after years of controversy
Houston megachurch pastor and televangelist Joel Osteen is no stranger to controversy. While he claims to espouse Christian teachings, his actions quite often say the exact opposite, like this week, when it came to light that he had blocked the mother of a child killed in the 2012 mass shooting at Sandy Hook Elementary School on Twitter.
Moms Demand Action founder Shannon Watts tweeted out a screenshot, writing, "Let this sink in: So-called pastor Joel Osteen just blocked the mother of a child killed at Sandy Hook School in Newtown, Connecticut. For such men are false apostles, deceitful workmen, disguising themselves as apostles of Christ…"
The woman Osteen appears to have blocked is Nelba Márquez-Greene, mother of 6-year-old Ana Grace Greene, one of the 20 first grade children killed during the Sandy Hook shooting. Márquez-Greene is the founder of the Ana Grace Project, a non profit that promotes music, arts, and development in partner schools to create love, community and connection for children.
It's not clear exactly why Osteen blocked Márquez-Greene, but she did tweet this yesterday, which some Twitter users are pointing to as something the Texas pastor would block a user over. "A church that preaches prosperity gospel when so many Americans are living in poverty, under daily threat of gun violence, addiction, broken systems and so much other stuff + says nothing to challenge Herod is NOT church," she wrote. "It's a racist country club."
This is far from the first time Osteen has come under fire for not practicing what Christians preach, though. In 2017, he was widely criticized during Hurricane Harvey, when he locked the doors to his arena-sized church and turned away evacuees seeking shelter. Other area churches, including mosques, sheltered and fed evacuees for days in the storm's wake. Osteen claimed in media reports that he did actually house victims at his church, then backtracked on those statements by saying that his church had flooded, and that's why he couldn't allow people to go there. In his first sermon after the hurricane, he told the congregation (and his millions of TV viewers around the world) that hurricane victims needed to stop having a "'poor old me' mentality."
Osteen has also been heavily criticized for the wealth he's amassed as a pastor. He's assumed to be one of the richest pastors in the country with a net worth estimated between $40-$60 million. He and his family live in a $10 million, 17,000-square foot mansion in Texas. He's been widely criticized for preaching what's called "prosperity gospel," or the idea that God rewards pious followers with material wealth and possessions.