Joey Feek Gives Her Baby 'One Last Kiss' In Heartbreaking Post By Her Husband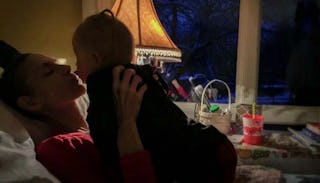 Joey Feek gives her daughter one last kiss in heartbreaking photo
We all have a limited time with our children. Most of us just don't know what that time is, so we can go on with our lives, pretending that we'll be here for all the milestones, all the epic events, all of the things a parent is supposed to be there to witness their child doing.
But there is no guarantee. The blessing/curse for those of us who don't have a terminal illness is that we don't have to count those minutes. We can stay blissfully in denial that life will end for us, or that we'll ever be away from the families we love so much.
Joey Feek has been sitting with the knowledge that she's leaving her family for more than a year now. She was diagnosed with cancer in 2014 and in 2015 she informed fans that it had spread and she was stopping treatment. Her husband has been sharing their family's journey through her illness together. Yesterday he announced in a post he called "one last kiss" that Joey's body has begun to shut down, and she's said goodbye to her family.
She held on to celebrate her daughter second birthday. Rory writes on his blog, "not long after Indy's birthday my wife decided that 'enough is enough'. She was ready to stop fighting and she told me so. She said the flowers would soon be blooming back in Tennessee. It's time to go home." He reports that his wife has been "asleep for days" and her body is shutting down quickly.
"Joey gathered her family together around her and she said goodbye to each of them… to her mother and father and her three sisters. There were lots of tears as she explained to each one how much she loved them and that she was going to be going home soon. That her time here was done and she was going to go to sleep soon. And then she asked me to bring our baby in. And so… I set our little Indy on Joey's lap and we all cried with my wife as she told her how much her mama loved her and, "…you be a big girl for your papa… and that mama will be watching over you". And then she pulled Indiana up and she kissed her.
One last kiss."
A body that's been invaded with terminal cancer eventually has to give up… through no fault of its own. All the love we contain, all of the things that make us who we really are can no longer be trapped in an ailing shell. Watching Joey's body deteriorate over the last year, you could still see her spirit bursting from her body. You could see the love for her children in every photograph.
"One of the last things Joey said before she drifted into the deep sleep she's been in for a few days now is, 'I have no regrets… I can honestly say, that I have done everything I wanted to do and lived the life I always wanted to live.'"