Watch John Krasinski Sing 'Long Lost' Lyrics To 'The Office' Theme Song
by Julie Scagell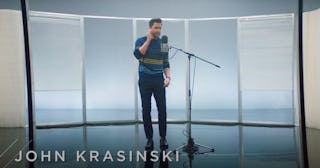 NBC
John Krasinski gives 'The Office' theme song an update
Actor John Krasinski joined SNL last night for his first ever hosting gig on the show. During it, he took on The Office theme song and gave it brand new life with updated lyrics and tbh, it was the highlight of the show (and will be stuck in our heads forever).
The Jack Ryan star joined some SNL cast members to sing invented lyrics to TV theme songs, including The Queen's Gambit, Bridgerton, and The Mandalorian — a nod to Nicole Kidman singing the lyrics to her now-iconic series, The Undoing.
And if you have Krasinski on set and don't force him remake The Office theme song, well, that would be a missed opportunity.
Krasinski, who played Jim Halpert on the beloved show, starts off simple ("Scranton, Scranton, Scranton, Scranton, Scranton, Scranton") and it gets better from there. He, of course, made Jim Halpert out to be the hero, Dwight the "bad guy," and pointed out some other memories from the opening video like, "there's a calculator," "tie flip," and "there's a guy on the phone." Okay, it's not the most imaginative attempt but it's pure, unadulterated Jim with his half-smile and nods to camera.
Not only is it funny because he basically just narrates exactly what's happening in each scene, but most of us feel like we live it every day because we've rewatched the series 10 times since the pandemic began. Krasinski will always be "Jim" no matter where he goes or what he does. After Krasinski performs the song, you can hear one SNL audience member vigorously yelling, "Yeah!" at the end of his performance. We feel that with every fiber of our being.
The audience's The Office obsession is present in the opening monologue of the show when Krasinski talks about how excited he is to host SNL but gets immediately interrupted by Alex Moffat, playing an audience member, who called him "Jim" and asks about his relationship with "Pam." Ego Nwodim, also pretending to be an audience member, seems confused, interrupting him to say, "Jim, you look different." When he mentioned he's been working out for his role on Jack Ryan, she responds, "You need to stop it, Jim is soft. When you touch Jim, your hand goes in like memory foam."
The writers even managed to give Office-obsessed viewers a reenactment of the Jim and Pam kiss, which was unfortunately not played by Jenna Fischer but rather SNL cast member Pete Davidson. "I'm sorry about this, I think everyone's been stuck inside for a year watching The Office nonstop," Davidson said.
Since it seems like we'll all be stuck inside for the foreseeable future, at least we now have new lyrics to sing at the beginning of each show. Krasinski is the gift that keeps on giving.