John And Chrissy's Christmas Special Trailer Is 90's Themed -- And Hilarious
by Thea Glassman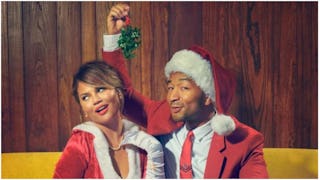 Image via NBC
John Legend and Chrissy Teigen's Christmas special will make you want to gather round the tree immediately
The holidays are meant to be spent having cozy time with all your loved ones. Well, all your loved ones plus Chrissy Teigen and John Legend, who are basically our best friends in a fun, alternative universe. The couple is hosting an upcoming NBC special called A Legendary Christmas with John and Chrissy, and the trailer is a perfect take on classic 90's sitcoms.
Warning: it'll make you want to immediately sit in front of a cackling fire while binge watching every season of Full House.
The hour-long telecast will air on Nov. 28 and feature songs from Legend's new Christmas album "A Legendary Christmas." There will also be appearances from "other well-known personalities," which haven't been announced yet but watch the trailer and you'll get a quick glimpse of Kim Kardashian, Stevie Wonder, and Awkwafina. Other very notable cameos include the couple's two kids Luna and Miles, along with their dogs Paul and Penny.
The best part? It's full on 90's cheesiness, completely with those classic opening credit sequences and all the mugging at the camera.
Now, please treat yourself to a few moments of John Legend's extremely dreamy voice, singing an intro for the Christmas special.
Okay if that's not enough holiday goodness for you, the duo also went caroling with a few famous friends (including Jane Lynch and Darren Criss – aka THE GLEE REUNION THE WORLD DESPERATELY NEEDS).
Bustle reported that the special will also include recipes from Teigen's Cravings cookbook, which is great because maybe we don't have to cook this Christmas and can just admire all the pretty food on the screen. Plus, the Queer Eye guys are apparently going to make an appearance so that means we can count on feeling ~feelings~ and Antoni's avocados.
Yahhhhs henny.
Here's to spending the holidays with all of our loved ones PLUS all of our favorite celebs. Ultimate win-win.