John Legend Talks About The Moment He Fell In Love With Chrissy Teigen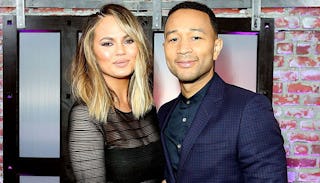 Image via Rachel Murray/Getty Images.
John Legend and Chrissy Teigen talk about falling in love
John Legend recently shared a story about when he fell in love with wife Chrissy Teigen and she shared the moment she knew they would be married. Both stories are as cute as you think they'd be.
"I fell in love with her over the phone because she is good with those 140 characters," the 10-time Grammy Award winner explained. We fell in love with her while reading her tweets, too! Oh — he probably means while actually talking on the phone.
Legend met the Sports Illustrated model back in 2006. "[At the beginning of our relationship] we were texting a lot, and I started to see her sense of humor," Legend told ET reporters during a recent interview. "We would talk on the phone, and I started to fall in love with how engaging and witty and funny she is." So Teigen's personality was the game changer – not her supermodel physique. Legend added, "And I think that's when I really started to know that this was the kind of person I wanted to [be] around a lot."
It makes total sense as we love Teigen for her sass and wit as well. She was honest and heartfelt when she explained publicly why we should never ask a woman why she doesn't have kids. And she didn't shy away from the people who criticized her decision to hire a night nurse. She also tweeted about the gross parts of new motherhood that women really should talk about more.
Getting back to their love story, Legend explained that he wasn't nervous about their budding relationship. "When you feel a real connection to somebody, for me it wasn't nerves, it was more like excitement," he shared. "'Oh, this could be great.'"
And great it has been! The couple met when Teigen was cast for his music video for "Stereo." "Once we started spending more time together between tour stops and all this other stuff, we realized we had such a connection," Legand said. "And then it blossomed into a marriage and a baby." They officially started dating in 2007 and married in Lake Como in 2013. The couple welcomed their first child, Luna, in April.
The couple is known for setting the internet ablaze with stories of their life together. They're both social media savvy and post tons of moments together that celebrities typically don't share. Like the one above from Teigen. "Back to where it all began – Lake Como, Italy – first came here in 2007. A boat tour guide took us to a little spot on the lake and told us to make a wish," she wrote. "I asked for this to be the man I marry and have children with. I think John asked for the most perfect bite of cacio e pepe. Both came true, and here we are."
This article was originally published on