John Legend's Consent-Filled Version Of 'Baby It's Cold Outside' Is What We Need RN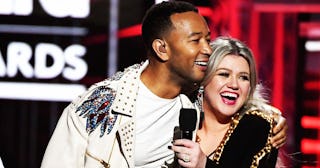 Ethan Miller/Getty
John Legend and Kelly Clarkson are revamping "Baby It's Cold Outside" for the 21st century
"Baby It's Cold Outside" is one of those Christmas classics that pretty much every adult in the United States knows the words to. While the 1944 hit — penned by Guys and Dolls singer Frank Loesser as a duet for him to sing with his wife at parties — is undeniably catchy, many people find the lyrics to be pretty offensive considering the themes of date rape and coercion. Instead of scrapping the holiday favorite altogether, John Legend, with the help of his The Voice co-judge Kelly Clarkson, has decided to update it with more current lyrics.
Legend first revealed the news as part of his Vanity Fair profile with wife Chrissy Teigen, with the Grammy award-winning singer promising it will be "every bit as fun and swinging as the original."
Legend is doing away with the song's anti-#metoo lines like, "Say, what's in this drink?" and a his-and-hers exchange where the guy creepily attempts to coerce his love interest to stay the night — despite her continued protests such as "I really can't stay," and "The answer is no."
"I really can't stay (Baby it's cold outside)/ I've gotta go away (I can call you a ride)/ This evening has been (so glad that you dropped in)/ So very nice (time spent with you is paradise)/ My mother will start to worry (I'll call a car and tell 'em to hurry)" are some of the new lyrics to the song.
"What will my friends think? (I think they should rejoice)/… if I have one more drink? (It's your body, and your choice)" are more.
Insecure star and writer Natasha Rothwell helped John with the lyrics of the song, which will be released as a single and also as part of an expanded version of Legend's Christmas album, A Legendary Christmas: The Deluxe Edition, available Nov. 8.
Despite John and Kelly's efforts to keep the song current and as inoffensive as possible, not everyone was impressed by "Baby It's Cold Outside" 2.0. In fact, tons of people on the internet were enraged by the new lyrics. Many went as far as calling the remake "offensive."
This isn't the first time that a holiday classic has been remade in hopes of promoting a more PC message. Last holiday season Miley Cyrus turned "Santa Baby" into a feminist anthem, and it was totally amazing.
"Santa, baby, I don't fancy any fancy jewelry, not me, I've got something else in mind Santa baby, and I don't need your presents tonight…" she sang as part of a skit on The Tonight Show Starring Jimmy Fallon.
"Don't want diamonds, cash or stocks, nothing that comes in a box, no more fluff, I've had enough and I can buy my own damn stuff," she continued. She saved one of the best lines for last. "Santa baby, I'd love to know my ass won't get grabbed. At work. By some ignorant jerk. Tell the dirtbags, to put away their chimneys tonight."
If you are one of those folks who is offended by any remakes of holiday classics, whether you think they are simply terrible or don't like lyrics that give a woman a choice, the best thing to do is just not listen to them. The rest of us will be happily playing them all holiday season long.