John Legend Admits He's Taking Swimming Lessons And Gets All The Love From Fans
by Julie Scagell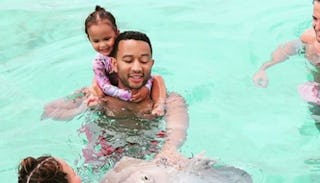 Image via Instagram/Chrissy Teigen
The singer's admission is inspiring a lot of others to do the same
Most parents know the importance of teaching kids how to swim. But what if we, ourselves, never learned? Good thing it's never too late to learn how — and that's exactly what singer and father-of-two, John Legend, is doing.
Legend, 40, revealed on Twitter this week that he's picking up where he left off as a five-year-old, taking lessons himself.
"I can't really swim. Today I took my first swim lesson since I was like 5," he wrote. "My dad learned in his 60's so I feel like I'm ahead of schedule." It's probably not something that's too easy to admit, especially when it's a skill that's usually assumed.
Turns out, the people of Twitter were thankful to Legend for admitting he doesn't know how and for his willingness to learn something new, no matter what his age.
https://twitter.com/jetpack/status/1090084020438908930
https://twitter.com/jetpack/status/1090069236289019905
One follower asked if he was learning with his kids, Luna, two, and Miles, eight months and he responded saying they were way ahead of him.
And another decided now was the right time to call him out on his "All of Me" lyrics in which he sings, "My head's underwater, but I'm breathing fine / You're crazy and I'm out of my mind."
The singer and his wife, Chrissy Teigen, are known for keeping it real. Whether it's breastfeeding, her body after baby, conceiving their kids, or even how we've been pronouncing her name wrong all these years, their total and complete honesty about the highs and lows of parenting, marriage, and everyday life is refreshing.
It turns out in the case of swimming, Legend is most definitely not alone. In a survey done for the Red Cross, researchers found that while 80 percent of Americans said they could swim, "only 56 percent of the self-described swimmers can perform all five of the basic skills that could save their life in the water."
What's more, according to the CDC, from 2005-2014 there were an average of 3,536 fatal unintentional drownings (non-boating related) annually in the United States. That's about ten a day and only 20 percent of those were children under 14 years of age.
Obviously, Legend has a lot to keep up with, both in and out of the water. With a toddler and baby, a bustling career as a singer and producer, and a wife that most definitely keeps him on his toes, it's fun to see him tackle something new.
We're sure Legend will have no trouble mastering another new skill — and it seems he's inspired a lot of other people in the process.
This article was originally published on