Everyone Loves This Insanely Viral Christmas Ad
by Valerie Williams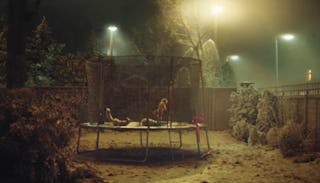 Image via YouTube
The John Lewis Christmas ad is exactly what we need right now.
As we sift through the rubble of this past week's stunning election result, some of us are looking for a little cheer. We probably weren't expecting it to come in the form of a bunch of adorable animals joyously bouncing on a trampoline, yet, here we are.
British department store John Lewis has a yearly tradition of rolling out a unique and highly-anticipated commercial for the Christmas season. This year, they went with something equal parts heartwarming and hilarious. Words don't really do it justice, so check it out and then we'll reconvene.
Did you find yourself alternately bursting out laughing and wiping tears from your face? Hopefully, yes. Or else, the cheese (me) stands alone.
The commercial opens with a dog (a boxer) watching his young owner jump up and down on her bed. We quickly discover that it's Christmas Eve, and after the child goes to sleep, her dad starts assembling her gift of a trampoline in the backyard. Once finished, he heads inside and watches TV with his wife. And what happens next is frickin' adorable.
Woodland creatures come out of the shadows and timidly jump up on the new toy. The song playing in the background is Randy Crawford tear-jerker, "One Day I'll Fly Away." A pair of foxes hop on first and once they realize the possibilities, they begin to jump with abandon. They're soon joined by a badger, a squirrel and a hedgehog (PS: someone please get me a hedgehog for Christmas) for a happy bounce session.
But not everyone is happy.
We pan to Buster the boxer, watching sadly from inside the house as all the other animals have a blast without him. And then, morning comes. The little girl comes bounding down the stairs and as her dad opens the back door, she sees her big gift standing in the yard. As she sprints toward it with a huge smile on her face, Buster comes roaring from behind, beating her to the punch. As the girl's face swiftly changes from excited to shocked, Buster leaps onto the trampoline and starts bouncing, tongue hanging out, goofy boxer face full of joy. Her parents look similarly stunned, and now, I can't stop laughing.
Annnnnd, scene.
The commercial was created in partnership with The Wildlife Trust, an animal charity that will receive 10% of sales from stuffed versions of the creatures in the ad. Which is fantastic and all, but mostly, we're just thrilled this ad came out when it did. Even though so many of us continue to reel from the election result, wondering what the future holds, we still need to laugh. John Lewis definitely didn't realize how much this commercial would cheer Britain's friends across the pond. And we thank them for it.
H/T Babble
This article was originally published on