Votes From John Lewis' District Help Give Biden The Lead In Georgia
by Christina Marfice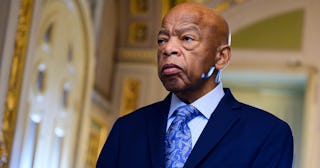 Tom Williams/Getty
"John Lewis must be smiling from heaven"
Votes from the final, key handful of swing states in the presidential election have been trickling in all week. But at about 4:30 in the morning eastern time, something happened: Georgia flipped blue as Joe Biden pulled ahead in the count. It didn't take long for people observing the race to note that the newly counted absentee ballots that pushed Biden into the lead came from Clayton County — the home district of the late Rep. John Lewis.
Lewis was a hero in the fight for civil rights in America. He was a bastion of the kind of kindness and decency that have been missing from our politics for the last four years, which helps make this moment in history so much sweeter.
Lewis was also a pretty constant target for Trump's trademark bullying and harassment. He once called Clayton County and the late leader's district, "horrible," and when Lewis died in July, Trump flat out refused to attend his funeral.
In an interview with Axios, Trump tried to defend that decision, but just came off sounding like a heartless monster, as usual.
"He didn't come to my inauguration. He didn't come to my State of the Union speeches. And that's OK, that's his right. And again, nobody has done more for Black Americans than I have. He should've come. I think he made a big mistake," Trump said about Lewis. "He was a person that devoted a lot of energy and lot of heart to civil rights. But there were many others also."
This is the man who led the legendary 1965 civil rights march in Selma. And Trump tried to downplay that — as well as Lewis's many other incredible achievements. The Representative was a man who worked hard to overcome racism and unite the country. And as always, Trump used his death to further his own agenda and to sow even more division. John Lewis was a hero, full stop. Trump is a coward, a racist, a bully. These men aren't on the same plane — not even close.
As the last remaining votes are counted today, data analysts say it's unlikely that Trump will be able to take back the lead in Georgia, or in Pennsylvania, where Biden also pulled ahead this morning. And just like that, maybe we're about to enter another era where politics aren't about winners and losers, but about working for all Americans — something Trump never considered to be part of the job.